Dyson DC39 Review
Advertiser Disclosure
This website features affiliate links. For purchases made via these links, we earn commissions that allow us to keep producing helpful content. To find out more
click here
.
Close
Dyson DC39 is a bagless canister pet vacuum praised for its top-notch multi-surface performance, great pet hair removal results, strong suction, and incredible maneuverability. It is a product of Dyson, a fast-growing English company that launched the first-ever bagless vacuum more than 2 decades ago.
From its innovative design to its range of revolutionary technologies that facilitate hair removal and enhance user experience, everything about this unique pet vacuum makes it well-worth the attention it has been getting since its launch. Read this Dyson DC39 review to discover why you may want to have this hard-working cleaning assistant in your household.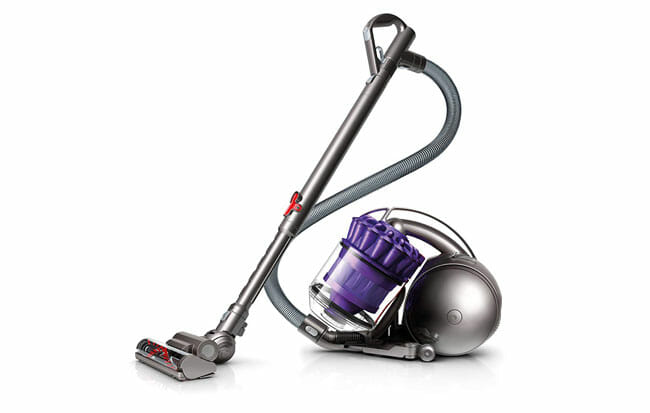 Design & Specifications
The futuristic design of Dyson DC39 combined with the eye-catching iron-purple color scheme is sure to please users who value aesthetics. However, this bagless canister pet vacuum is more than just eye-candy.
With its swiveling head and retractable cord, it is designed with maneuverability and ease of storage in mind. Not only that, but it is also one of the rare canister pet vacuums with turbine head controls located at the handle, which allows you to switch from carpets to floors and vice versa without bending and putting an undesired strain on your back.
The vacuum is made of ABS and polycarbonate used in the production of crash helmets and riot shields, which guarantees that it can last for many years, even with highly frequent use.
| Weight | Dimensions | Hose Length |
| --- | --- | --- |
| 16.89 pounds | 14.5 x 19.9 x 10.2 inches (HWD) | 5.5 feet |
| Hose Diameter | Cord Length | Cleaning Path |
| 2 inches | 21.7 feet | 10.3 inches |
| Cleaning Reach | Power | Voltage |
| 33 feet | 290 air watts | 120 volts |
| Filtration | Cord | Dust Capacity |
| 2-stage filtration with a washable filter and a HEPA filter | Retractable | 2 liters |
| Bag | Motorized Brush | Swiveling head |
| Bagless | Yes | Yes |
| Full Dustbin Indicator | Suction Control | Max Noise Level |
| Yes | Yes | 84 dB |
Features
As stated at the beginning of this Dyson DC39 review, this impressively designed pet vacuum cleaner employs a variety of unique, patented technologies that you cannot find in just any vacuum. In this section, we will explain what these technologies are and how they contribute to your vacuuming experience and further introduce you to other distinctive features of Dyson DC39.
Radial Root Cyclone Technology
The Radial Root Cyclone technology is what makes Dyson DC39 more powerful and efficient than many other vacuums of the same kind. It solves common clogging problems that result in the loss of suction by maximizing suction power via remodeled airflows. Due to improved airflow efficiency, it is able to keep the air pressure steady, minimize turbulence, and thus maximize the extraction of dust, pet hair, and microscopic particles through the inner cyclones.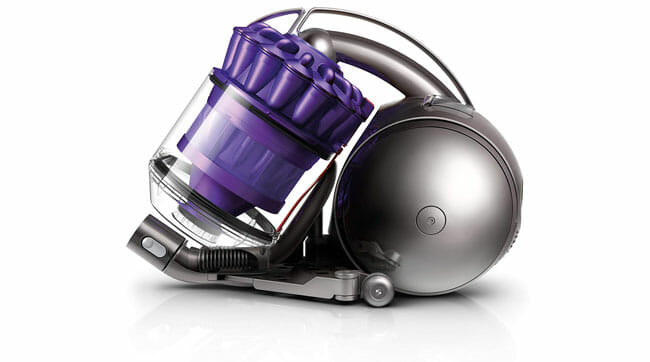 Ball Technology
The patented Ball technology lets Dyson DC39 turn on the spot, which results in amazing maneuverability. Its central element is an articulated central steering system, which in layman's terms means that the ball in the vacuum is employed to keep the motor near the base and thus improve stability and facilitate navigation.
Dual Mode Floor Tool
With an adjustable, dual-mode floor tool, Dyson DC39 is able to easily switch between different types of floors with no significant diminishment in performance.
Allergy-Friendly
Taking allergy problems seriously, Dyson DC30 features a high-efficiency HEPA filter that captures virtually all common household and pet-related allergens. The vacuum is certified asthma- and allergy-friendly by Allergy Standards Limited.
Acoustic engineering
This Quiet-Mark-awarded vacuum is acoustically designed and characterized by high sound quality, which is not a highly common feature among pet vacuums.
Easy-Empty Dustbin
To minimize contact with dirt, hair, and potentially harmful particles collected while vacuuming, the designers of Dyson DC39 have created an easy-empty dustbin that lets you release the content of the bin with a simple push of the button.
Attachments & Accessories
In addition to the 10-inch Triggerhead brush for floor cleaning that is an essential part of the vacuum, Dyson DC39 comes with 4 additional tools that further improve its performance on different surfaces. These tools include a combination dusting brush/crevice tool, a 3.5-inch stair tool, the unique Tangle Free Turbine tool, and a telescoping extension wand.
The combination dusting brush/crevice tool can be used on everything from edges, ornate objects, and fans to upholstery. It is useful in cleaning narrow spaces where dust and hair tend to accumulate. The 3.5-inch stair tool doubles as an upholstery tool and it is designed to facilitate the removal of embedded hair and dirt from above-floor surfaces.
The Tangle Free Turbine Tool is the star of Dyson DC39's accessory pack. It is engineered to eliminate tangling issues and make dust, dirt, and hair removal a breeze on upholstery, stairs, and all kinds of hard-to-reach spots. Finally, the telescoping extension wand with a detachable handle is particularly useful in stair and above-floor cleaning, as it extends the vacuum's cleaning reach by 4 feet.
Performance
The range of surfaces that can be cleaned with Dyson DC39 is more than wide. You can use it on hard floors of all types, including wood, tile, vinyl, laminate, and concrete. It is suitable for both low-pile and high-pile carpets. You can use it to vacuum stairs, upholstery (including leather furniture), and even car interiors if you have a power outlet nearby to plug it in while vacuuming your car. We have set out to find out how well this vacuum picks up dirt, dust, and hair depending on surface type.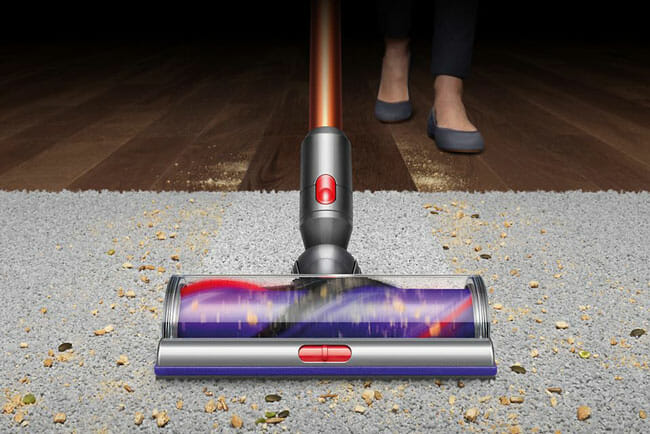 Bare Floors
Together with powerful suction, the long bristles of the brush do a marvelous job removing hair and fine particles from bare floors without scratching the surface. Particles that are too large may be hard to pick up with the brush, so you may want to substitute it with the crevice tool or use no tool at all.
However, it should be noted that the mouth is wide enough to suck in most kinds of dirt and the wide hose minimizes the chance of clogging. A single pass is usually enough to leave bare floors dirt-and-hair-free.
Low-Pile Carpets
Dyson DC39's performance on low-pile carpets is just as good as on bare floors. It easily eliminates embedded hair and dirt in a few passes. Its suction power is truly great, so you do not have to worry about any dirt stuck in your low-pile carpet after you are done. For localized messes on low-pile carpets and particularly stubborn dirt, you can use the Tangle Free Turbine Tool to enhance the results.
High-Pile Carpets
The vacuum's performance on high-pile carpets is more acceptable than stellar. Deep-embedded hair may not be swiftly extracted in spite of the strong suction. In other words, the vacuum may make your high-pile carpets look pretty clean by eliminating dirt and hair on the superficial level, but it may not provide a deep clean on shag rugs and other carpets with a particularly great pile height.
Stairs
Dyson DC39 works magnificently on stairs, regardless of whether you are using the stair tool or the Tangle Free Turbine Tool. With its 33-foot cleaning reach, you can easily clean staircases that are not particularly tall and enjoy great results on both carpeted and non-carpeted stairs. Considering that stair cleaning is not a forte for a large number of pet vacuums, this can be considered a serious advantage.
Upholstery
Just like with stairs, Dyson DC39 yields excellent results on upholstery. You can use the stair tool that works equally well on upholstery. Alternatively, if the four-legged or two-legged members of your family have long hair, you should opt for the Tangle Free Turbine Tool because it does a better job in such conditions and you do not have to worry about diminished performance caused by entangled hair.
Car
The problem with cleaning car interiors with Dyson DC39 is not related to its inability to extract pet hair and dirt because it does not fail to produce great results in this scenario. The trouble is that its cleaning reach may not be sufficient to allow you to effortlessly clean every corner of your vehicle. Due to the inherent limitations in terms of cord and hose length and the very existence of the cord, you can only clean car interiors with this vacuum if you have a power outlet right next to your car.
Pricing
At the moment, the price of Dyson DC39 on Amazon ranges from $299 to $899.99, depending on whether the appliance is new or "like new." Shipping normally comes free of charge within the US. Along with the vacuum, you get the full set of accessories, a quick start guide, an operations manual, and warranty information.
Speaking of warranty, Dyson DC39 comes with an unusually generous 5-year limited warranty that covers vacuum parts and labor. As usual, it does not cover damages and malfunctions caused by improper use and maintenance. Being sold via Amazon, Dyson DC39 comes with a 30-day money-back guarantee that allows you to get a full refund if you return the device in the original condition and packaging within 30 days after delivery.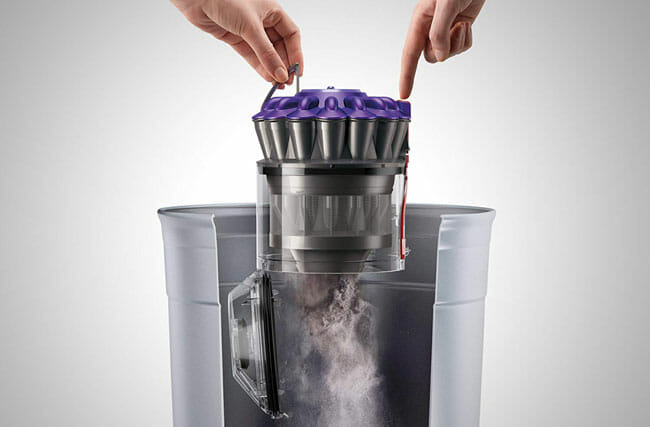 Does Dyson DC39 Live Up To Expectations?
Dyson DC39 has high user ratings across the web, normally between 4 and 5 stars. Most users find that its suction power is virtually unparalleled and they praise its ability to pick up hair and dirt. Some users state that it is of great help in alleviating allergy symptoms. Furthermore, users frequently claim that the attachments are highly useful and efficient and praise the vacuum's multi-surface performance.
The issues a number of users mention include time-consuming maintenance (cleaning the wheels and brushes), suction that is too powerful for some carpets, and occasional clogging. However, it should be noted that the vacuum comes with suction control, so suction can be lowered. Furthermore, clogging issues often arise when the user attempts to vacuum particles that are too large. This is not a model-specific problem, meaning it happens with virtually all vacuums, so it is recommended to do some sweeping before vacuuming if there are many large dirt particles.
Keeping in mind that most users are highly satisfied with the vacuum and that the issues pointed out by some customers can be rather easily solved, it can be concluded that Dyson DC39 is a safe choice and more than likely to perform to your satisfaction.
Pros
Durable, well-crafted canister pet vacuum
Powerful 290 AW suction
Radial Root Cyclone technology for maximized hair and dirt pickup
Great multi-surface performance
Excellent accessory pack
2-liter, easy-empty dustbin
HEPA filter
Ball technology for easy steering
Acoustic engineering
Retractable cord
5-year limited warranty
30-day money-back guarantee
Cons
Narrow cleaning path
High price
Less-than-perfect high-pile carpet performance
Verdict
Dyson DC39 is a durable, reliable, and efficient bagless canister pet vacuum that boasts great suction power, easy maneuverability, and stellar performance on virtually all surfaces, with the sole exception of shag rugs. It comes with several handy accessories, a relatively large, easy-empty dustbin, and powerful filtration. Its cleaning path should be wider and its price is not low, but considering its long lifespan, it is a smart investment and it could save you money in the long run.
If the floor plan of your home features stairs or simply if you have multiple pets and a large home to clean, Dyson DC39 can be a great solution for your pet hair troubles.