Eureka Airspeed Unlimited Review
Advertiser Disclosure
This website features affiliate links. For purchases made via these links, we earn commissions that allow us to keep producing helpful content. To find out more
click here
.
Close
Eureka Airspeed Unlimited is an upright pet vacuum cleaner characterized by powerful suction and great performance across a wide range of surfaces. It is manufactured by Eureka, one of the best-known companies in the vacuum cleaner industry, with a tradition spanning over 100 years.
Particularly designed for easy hair removal, this pet vacuum cleaner promises to never lose suction and efficiently pull pet hair and dirt into its spacious, transparent canister that allows you to instantly see the cleaning results. Read this Eureka Airspeed Unlimited review to find out if this vacuum lives up to the manufacturer's claim that it cleans carpets better than Dyson DC41.

Design & Specifications
Eureka Airspeed Unlimited pet vacuum features a modern design and attractive copper metallic color. It is a bagless upright with a large washable dirt canister. In comparison to many other uprights, it is rather lightweight; however, it is also rather bulky, so be ready to reorganize your storage space to fit your new vacuum.
Designed with ease of use in mind, this vacuum cleaner features multiple handy step-on pedals, buttons, and control switches that let you turn the vacuum on and off, recline it, and switch between vacuuming modes in a single step. With automatic cord rewind, the vacuum is ready to store in seconds.
Now, let us take a look at the technical specs of Eureka Airspeed Unlimited pet vacuum.
| Weight | Dimensions | Hose Lenght |
| --- | --- | --- |
| 15.5 pounds | 43.5 x 12.5 x 13.5 inches (HWD) | 12 feet |
| Cord Lenght | Cleaning Path | Power |
| 27 feet | 13 inches | 12 Amps |
| Voltage | Filter | Cord |
| 120 Volts | Washable foam filter plus high-efficiency allergen filter | Retractable |
| Dust Capacity | Bag | Swiveling head |
| N/A | Bagless | No |
| Thermal/Overload Protection | Height Adjustment | Noise Level |
| Yes | 5 settings | 89 dB |
Features
In the previous section of this Eureka Airspeed Unlimited review, we have gone over the crucial technical characteristics of this pet vacuum, based on which we can say that it does rather well for a low-cost upright. In this segment, we will examine its most prominent features and determine whether it has what it takes to make your home hair-free.
Airspeed Technology
In pet hair elimination, powerful suction is of paramount importance. Eureka Airspeed Unlimited uses proprietary Airspeed technology that minimizes the distance dirt and hair have to travel, thus reducing power loss. Using a short and wide air pipe and expanded exhaust pipe, this technology ensures steady and mighty vacuum suction with a direct air path from the floor to the canister. It maximizes airflow as well as dirt removal.
Multi-Surface
Eureka Airspeed Unlimited comes with a motorized brush roll that can be easily turned on and off with the handy brush roll switch. This function makes the vacuum suitable for both bare floors and carpeted surfaces and upholstery. You can simply keep the roll on while vacuuming carpets and switch it off when transitioning to bare floors.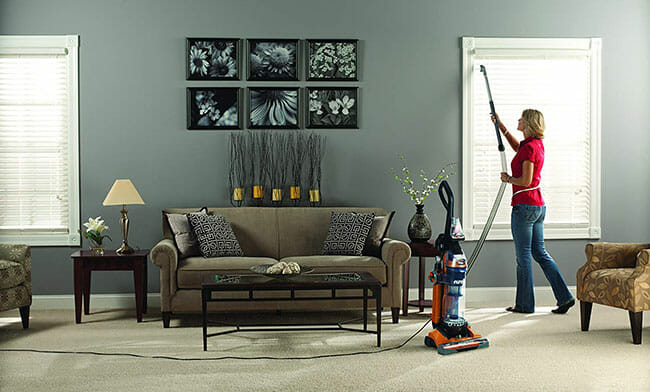 Height Adjustment
With its 5-setting height adjustment, this vacuum easily conforms to different carpet depths. The result is a deep clean regardless of carpet type.
Auto Cord Rewind
Not that common in upright vacuums, this feature of Eureka Airspeed Unlimited allows you to save time by having the cord rewind automatically with a simple push of a button.
Allergen Filter
In addition to a washable and reusable foam filter, Eureka Airspeed Unlimited contains a high-efficiency allergen filter that keeps the allergens locked inside the vacuum. It is important to note that the manufacturer does not state that it is a HEPA-level filter.
Soft Rubber Wheels
Soft rubber wheels ensure that the vacuum is gentle on the floors. Thus, you can safely use it on hardwood floors without worrying about potential scratches and damages.
Attachments & Accessories
Eureka Airspeed Unlimited comes with 4 accessory elements. These include an extension wand, a crevice tool, a dusting brush tool, and a turbo nozzle. The extension wand increases the reach of the vacuum. Combined with the 12-foot hose, it lets you easily clean anything within about 16 feet from you. That means that you can effortlessly clean everything from the stairs to the ceiling.
The crevice tool allows you to vacuum in narrow spaces and hard-to-reach spots, where pet hair is known to accumulate. Equally handy is the dusting brush tool that can be used to clean ornate objects, upholstery, and furniture or basically anything that requires dusting.
Finally, the turbo nozzle is particularly suitable for cleaning stairs and upholstery. It helps efficiently remove pet hair and stubborn dirt and dust embedded in tightly-woven materials.
Performance
As mentioned previously in this Eureka Airspeed Unlimited review, this vacuum is suitable for removing dirt and pet hair from various surfaces, including bare floors, carpets, stairs, and upholstery. It is time to find out how well it works on each of these surfaces and answer the question of whether it cleans carpets better than Dyson DC41.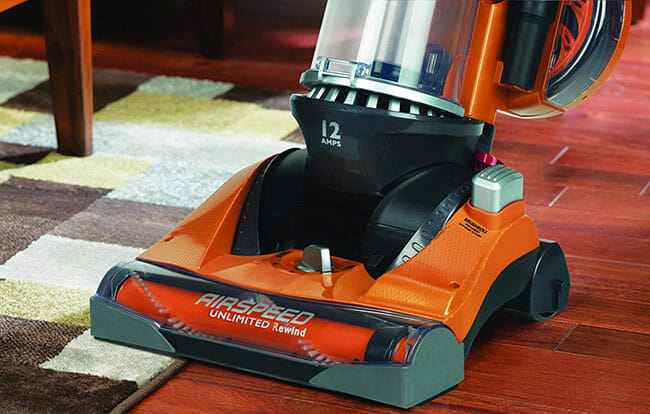 Bare Floors
Eureka Airspeed Unlimited's performance on bare floors can be described as superb. Whether it is used on hardwood floors, linoleum, tiles or any other floor type, its great suction power guarantees easy hair and dirt elimination. Both hair and large particles are instantly vacuumed while litter and other finer particles may require an extra pass or two.
Keep in mind that it is wise to turn off the brush roll on bare floors to prevent potential damage.
Carpets
One user of Eureka Airspeed Unlimited pointed out that this vacuum cleaner works so well on carpets, it seems like it pulls pet hair from other dimensions. While this seems like an exaggeration, it is true that the 5-setting height adjustment feature makes it suitable for virtually all carpets.
Of course, the results may vary depending on carpet thickness and texture, but the vacuum always provides a deep clean and generally works even better than expected, although we would not go as far as to say that it is superior to Dyson DC41.
Stairs
When it comes to stairs, the powerful suction is still there, which together with the turbo nozzle ensures great cleaning results, but there is a minor issue that should be pointed out. The 27-foot cord combined with the 12-foot hose and extension wand may still not be enough to meet the demands of cleaning high staircases. However, this cannot be considered as a major flaw, as it is one most upright vacuums suffer from.
Upholstery
When cleaning upholstery, we warmly recommend using the turbo nozzle, as it is particularly designed to get pet hair and dirt out of thick materials. The dusting brush tool can be of use as well, but mostly for cleaning up eating-in-bed mess such as crumbs. The vacuum certainly performs as well as expected and it could be equally successful in removing pet hair from cars if there weren't for the hose and cord length limitations.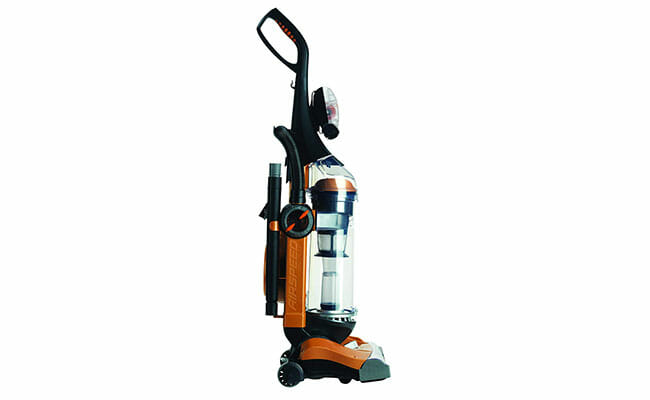 Pricing
Eureka Airspeed Unlimited costs just $99.99. The product comes with free shipping throughout the US, including Hawaii and Alaska.
In addition to free shipping, you get to enjoy a 3-year limited manufacturer's warranty that covers defects in materials and craftsmanship. Keep in mind that the warranty does not cover parts that require regular replacement, such as dust bags, filters, belts, light bulbs, bristles, and so forth. Furthermore, it is not applicable to damages and malfunctions caused by improper use and unauthorized service or the use of parts not provided by Eureka, ARM & HAMMER or Filtrete by 3M.
As the product is sold via Amazon, it is covered by Amazon's 30-day money-back guarantee. However, the guarantee may be void if the product is not new and unused.
Does Eureka Airspeed Unlimited Live Up To Expectations?
Most users of Eureka Airspeed Unlimited claim that this vacuum offers great value for money. They are generally impressed by its suction power, multi-surface performance, automatic cord rewind, and great ease of use. Multiple users particularly recommend it to individuals struggling with pet hair removal, stating that it does particularly well in this department.
As far as flaws go, some users complain about the vacuum's poor performance on shaggy carpets, although there are numerous users who praise its ability to provide a deep clean on high-pile shag rugs. The low quality of plastic elements is pointed out occasionally, but it is commonly justified by the low price of the vacuum.
Other potential problems include noisiness and frequent belt replacement. However, it is worth noting that in comparison to similar models, Eureka Airspeed Unlimited is not excessively noisy and the frequency of belt replacement can be reduced with proper maintenance.
Generally speaking, users are satisfied with this vacuum's performance and many of them report using it for years without any major problems. Plus, it even exceeds expectations in terms of pet hair removal, which is more than good news.
Pros
Powerful 12-Amp motor
Steady suction and easy hair removal with Airspeed technology
Extension wand, crevice and dusting brush tools, and turbo nozzle included
Solid performance on all floors and carpets
5-setting height adjustment
Automatic cord rewind
Allergen filter
Gentle on floors
3-year warranty
Good price
Cons
Somewhat noisy
Plastic elements prone to damage
Lack of swiveling head takes away from its maneuverability
Verdict
To conclude this Eureka Airspeed Unlimited review, we can say that while it is not exactly better than Dyson DC41, this vacuum comes pretty close. Its performance is impressive on all floors if not all carpets, it is a great solution for vacuuming upholstery, and it does well on not particularly tall stairs. It is great at removing pet hair – and although a bit noisy, it is convenient, easy to use, and quite reliable. It is safe to say that you cannot do much better for this kind of money.