Samsung POWERbot Review
Advertiser Disclosure
This website features affiliate links. For purchases made via these links, we earn commissions that allow us to keep producing helpful content. To find out more
click here
.
Close
Samsung POWERbot is often described as one of the smartest robotic pet vacuums on the market. It does not suffer from the all-too-common navigation problems, it boasts incredible, 40x boosted suction, and it is perfectly easy to control and program via a companion app or remote control. It is also compatible with Amazon Alexa and Google assistant, which is good news for users who prefer voice control.
This advanced automatic vacuuming solution is a product of Samsung Electronics, a world-famous tech company that manufactures everything from smartphones and wearables to medical devices and digital appliances. In this Samsung POWERbot review, we aim to find out exactly what this robotic pet vacuum can do for you and whether it is as good as numerous reviewers and users claim it to be.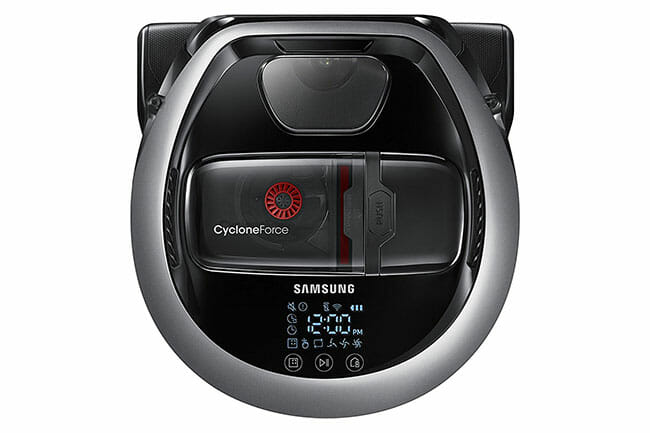 Design & Specifications
Unlike most robotic pet vacuums that feature a round shape, Samsung POWERbot is D-shaped and a bit bulkier but also sturdier than most of its competitors. It is available in satin titanium color, which contributes to its attractive, modern look.
On the face of the vacuum, there is a handy LED display panel that provides key information related to scheduling, cleaning mode, battery status, sound settings, WiFi connection, and smart control. The three buttons on the panel let you start or stop the device, switch between modes, and instruct the vacuum to recharge. While all these options are not necessary due to the presence of the remote control and companion app, they are a nice addition to the package and make the vacuum even more user-friendly.
Although we are quite satisfied with the design of Samsung POWERbot, we have to say that its overall size and height are not optimal, as they may prevent the vacuum from easily sliding under furniture and getting into narrow spaces.
Weight
Width
Depth
9.5 pounds
13.4 inches
13.7 inches
Height
Cleaning Path
Max Doorsill Crossing
3.8 inches
11.4 inches
Up to 1/2 inch
Cord
Bag
Wattage
Cordless
Bagless
20 Watts
Battery Type
Run Time
Full Recharge
21.6V lithium-Ion battery
Up to 90 minutes
160-180 minutes
Auto Charging Station Locator
Filtration System
Dust Capacity
Yes
2-stage filtration (pre-motor and exhaust)
0.3 L
Full Dirtbin Indicator
Dirt Sensor
Auto Surface Adjustment
No
Yes
Yes
Suction Control
Edge & Obstacle Detection
Scheduled Cleaning
Yes
Yes
Yes
Mapping
Mapping Sensor
Remote Control
Yes
Camera
Yes
Smartphone App
WiFi Connectivity
Virtual Boundaries
Yes
Yes
No
Multi-Room Navigation
Yes
Noise Level
71 dB
Features
Some robotic pet vacuums are multi-functional devices that do not only vacuum your floors but also mop and disinfect floor surfaces in your home. Samsung POWERbot does not belong to this category and exclusively performs sweeping and vacuuming functions.
In spite of this fact, it boasts a vaster range of features than many all-in-one floor cleaning solutions. In this part of our Samsung POWERbot review, we will highlight the most prominent features of this robotic pet vacuum and introduce you to the technologies it employs to improve vacuuming results.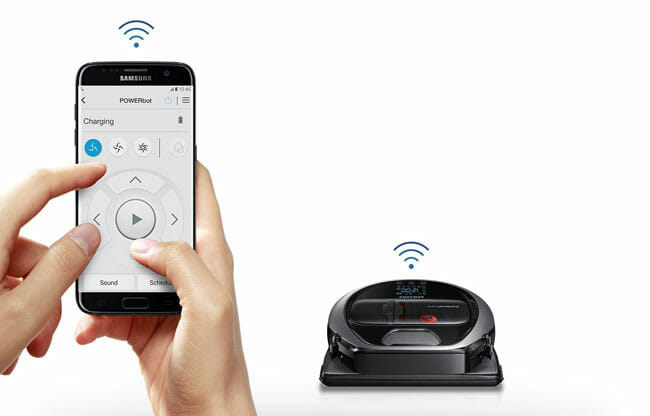 40X Boosted Suction
According to Samsung, its POWERbot vacuum boasts 40 times greater suction than a conventional robotic vacuum cleaner. While this claim is based on in-house tests that involved other Samsung vacuums, suction tests conducted by independent reviewers have also proven Samsung POWERbot's superiority to most other vacuums of the same kind. Thus, it is safe to say that with Samsung POWERbot, you get to enjoy significantly more powerful suction than with most of its competitors.
CycloneForce Technology
CycloneForce technology is particularly designed to prevent clogging and provide long-lasting suction with minimum variations, guaranteeing excellent performance throughout cleaning sessions.
4 Cleaning Modes
With Samsung POWERbot, you can choose between 4 distinct cleaning modes, including Auto Clean, Spot Clean, Manual Clean, and Repeat Clean. In the Auto Clean mode, the vacuum cleans the designated area only once, without multiple passes.
The Spot Clean mode is used for localized messes. The vacuum thoroughly cleans a smaller select area with higher cleaning intensity, removing everything from pet hair to cookie crumbs. In the Manual Clean mode, you can use the remote control to manually steer the vacuum toward a certain area instead of allowing it to follow its standard cleaning pattern.
In the Repeat Clean mode, the vacuum does not clean an area only once but makes multiple passes until the battery is depleted.
Smart Suction Control
Samsung POWERbot is designed to automatically adjust its suction power in accordance with the floor type. It uses higher suction power when it detects a carpet and lowers the power when cleaning bare floors.
Manual Suction Control
While the vacuum can adjust its suction power automatically, you can choose the suction settings manually. There are 3 options at your disposal, including the Turbo mode (the strongest suction power), the Normal mode (moderate suction power), and the Quiet mode (cleaning with reduced operational noise).
Edge Clean Master
When Samsung POWERbot detects a corner or an edge of a wall, it uses a specialized rubber blade particularly designed for cleaning such hard-to-reach areas. It cleans straight edges once and corners twice.
Visionary Mapping Plus With FullView Sensor 2.0
Many robotic vacuum cleaners suffer from the random-pattern issue, leaving some areas spotless and others untouched. Samsung POWERbot employs the Visionary Mapping Plus system with FullView Sensor 2.0 to strategically plan the optimal cleaning route using a digital area and smart sensors. That way, it ensures that no spot remains unvacuumed and it wastes no time cleaning areas that have already been cleaned.
Cliff, Bumper & Obstacle Sensors
Cliff, bumper, and obstacle sensors help Samsung POWERbot avoid furniture, stairs, and edges. While the sensors may have a hard time recognizing black or chrome furniture, they do a pretty good job avoiding most obstacles and prevent the vacuum from falling off stairs and edges.
Self-Clean Brush
Cleaning vacuum brushes is a rather boring chore, which is why the creators of this vacuum have equipped it with a self-clean brush that features scrapers that allow it to cut up long hair and prevent tangling, thus leaving less for you to clean during regular maintenance.
Extended Cleaning Path
The standard cleaning path for robotic vacuums is just around 8 inches. With its extended cleaning path of 11.4 inches, Samsung POWERbot is able to clean more in fewer passes and thus cover a vaster area during a single cleaning session.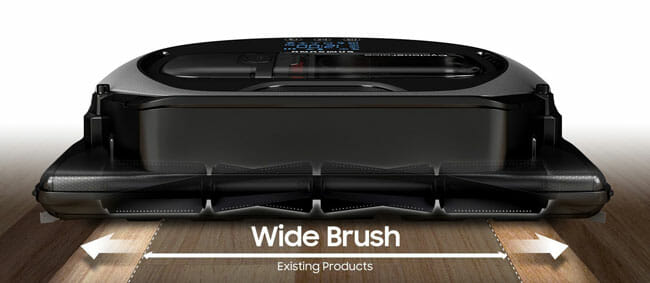 Scheduling
If you do not want to listen to vacuum noise when you are at home, you can instruct your Samsung POWERbot to self-start when you are at work or having coffee with friends. You can schedule a one-time self-start session or program the vacuum to automatically start cleaning every day at a specific time.
WiFi Connectivity
Thanks to WiFi connectivity, you can control your Samsung POWERbot remotely via your smartphone using Smart Home or Samsung Connect app. Depending on your preference, you can also program and instruct the vacuum via voice-enabled devices, as it is compatible with the likes of Amazon Alexa, Google Assistant, and Bixby.
Remote Control
In addition to the LED display panel and WiFi connectivity, Samsung POWERbot comes with a remote control that lets you steer the vacuum manually, switch between cleaning modes, and much more, with a simple push of the button.
EasyPass Wheels
To ensure that Samsung POWERbot can easily switch between different surfaces and move from one room to another, its designers have equipped it with large, soft wheels that allow for smooth transitioning over doorsills and similar obstacles.
Attachments & Accessories
In contrast to its vast feature set, Samsung POWERbot's accessory pack is rather poor. Apart from 1 spare filter and such obligatory items like the docking station, the only extras that come with this vacuum are the previously mentioned remote control and a magnetic tape a.k.a. boundary marker.
Since the vacuum does not rely on digital barriers to know which objects and areas it should stay away from, the manufacturer has provided a magnetic tape that you can stick on the floor at intervals of about 5.9 inches, letting the vacuum know that the tape marks a boundary that should not be crossed.
Performance
Being a robotic pet vacuum, Samsung POWERbot is designed to clean floors and it cannot be used to vacuum stairs and above-floor surfaces. It is suitable for a variety of flooring types, including wood, linoleum, laminate, marble tile, and ceramic tile. It can further be used on low-pile and medium pile carpets, but it is not a good choice for high-pile carpets for reasons that we will state later in this section of our Samsung POWERbot review.
To let you know what kind of vacuuming results you can expect, we will now focus on Samsung POWERbot's performance on different floor surfaces.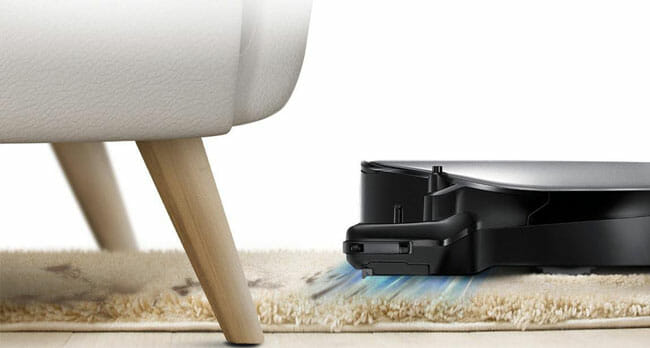 Bare Floors
Thanks to its extraordinary suction, wide cleaning path, powerful brush, and smart path planning, Samsung POWERbot is able to easily remove virtually all dirt and hair from your bare floors, rarely leaving anything behind. Its diagonal movement pattern ensures maximum coverage and the specialized rubber blade makes sure edges and corners are properly cleaned.
If you believe that your floors could use some extra attention, you can switch from the Auto Clean mode to the Repeat Clean mode, so the vacuum could remove excess dirt in multiple passes instead of just one. For larger particles that may require more effort, the Spot Clean mode has proved to be of particular use.
Low-Pile Carpets
Samsung POWERbot is one of the rare pet vacuums that perform even better on low-pile carpets than on bare floors. It increases suction when it detects a carpet, providing a deep clean and removing embedded hair and dirt. Its impeccable performance can be attributed to both its great suction power and self-clean brush, which prevents pet and human hair from getting tangled around the brush, thus maximizing the effects.
Medium-Pile Carpets
The vacuum provides above-average results on medium-pile carpets and its performance is quite similar to that on low-pile carpets. With daily vacuuming, your medium-pile carpet should be perfectly clean, with no deep-embedded hair left after the vacuum completes a cleaning session.
High-Pile Carpets
As we said before, Samsung POWERbot does not seem to be built to deal with high-pile carpets and shag rugs. It may have a hard time transitioning from bare floors to such carpets and it can get stuck, requiring human assistance to get out of trouble. Thus, if you have high-pile carpets, this vacuum can be of no particular use to you and we suggest using magnetic tape around the carpet to instruct the vacuum to stay away.
Pricing
Samsung POWERbot's regular price is $699, but it is now available at $498. Plus, it comes with free shipping throughout the US. Included in the package are Samsung POWERbot robotic vacuum, a docking station, a battery kit, a remote control, a spare filter, a user manual, and a magnetic tape.
We were rather disappointed to see that the vacuum comes with a 1-year limited warranty, which covers defects and malfunctions not caused by improper use. The warranty period is rather short for a robotic vacuum and we believe that considering the price, the manufacturer could offer at least a 3-year warranty, letting the customer know that the device is built to last.
Samsung POWERbot is sold via Amazon and thus covered by Amazon's 30-day money-back guarantee that allows you to get a full refund if you return the device within 30 days after delivery in the original condition and packaging.
Does Samsung POWERbot Live Up To Expectations?
This Samsung POWERbot review would not be complete if we did not examine the most common user praises and complaints, determining how users generally feel about this vacuum.
After sifting through a rather large number of user reviews, we noticed that most users love that this vacuum is easy to program and maintain and they often praise its suction power and hair pickup ability. They further like that they can control the vacuum in a number of ways, including the remote control, companion app, voice-enabled devices, and LED display panel.
Although some users report the vacuum repeatedly bumping into furniture, the majority of users state that Samsung POWERbot navigates around objects much better than many other robotic pet vacuums and that it does not often struggle to find its docking station. Furthermore, users frequently point out that visionary mapping really does the trick and provides great area coverage. Its lengthy run time is often praised as well.
User complaints are rarely related to performance and mostly refer to other factors that shape user experience, like the app that does not live up to everyone's expectations, the lack of virtual boundaries, and the absence of a mop.
With all this in mind, we can conclude that Samsung POWERbot definitely performs as expected and does an extremely well job removing pet hair and dirt.
Pros
40x boosted suction
Visionary Mapping Plus With FullView Sensor 2.0
CycloneForce technology for long-lasting suction and clogging prevention
Amazing performance on bare floors, low-pile carpets, and medium-pile carpets
4 cleaning modes
Smart and manual suction control
Cliff, bumper, and obstacle sensors
Edge Clean Master
One-time and daily scheduled self-start
Wide cleaning path
Remote control
WiFi connectivity
1-year limited warranty
30-day money-back guarantee
Cons
No HEPA filter
Does not come with a mop
Small dust capacity
No virtual boundaries
Short warranty period
Not suitable for high-pile carpets
Verdict
Samsung POWERbot provides a fully customized user experience and incredible vacuuming results on bare floors, low-pile carpets, and medium-pile carpets. It is beautifully crafted, it has excellent navigation skills, and it deep-cleans everything from carpets to edges and corners without skipping spots.
Its run time of up to 90 minutes with no loss of suction is sufficient to thoroughly clean a medium-sized home and multiple cleaning modes allow you to adjust its movement and behavior in accordance with your vacuuming needs. Plus, the vacuum employs some innovative solutions, like the self-clean brush, visionary mapping, and CycloneForce technology, all of which further improve its efficiency and eliminate common issues such as clogging and randomized cleaning path.
While virtual boundaries, larger dust capacity, mopping function, and suitability for high-carpets would certainly be welcome improvements, we believe that this vacuum is pretty amazing as it is and a great choice for busy pet parents with lots of low-to-medium-pile carpets and floor space to clean.