bObsweep Review
Advertiser Disclosure
This website features affiliate links. For purchases made via these links, we earn commissions that allow us to keep producing helpful content. To find out more
click here
.
Close
bObsweep robotic pet vacuum cleaner, also known as Bob PetHair Plus, represents a convenient, all-in-1 solution for floor cleaning. It removes everything from dirt and pet hair to germs, bacteria, and allergens and helps you save time and effort by working independently and keeping your floors squeaky clean.  It also boasts one of the largest dirtbins in the industry, specially designed for storing pet hair.
This well-crafted pet vacuum is one of the main products of bObsweep, Inc., Canada's leading manufacturer of robotic vacuum cleaners. Keep reading this bObsweep review to discover the full range of tools and features this vacuum provides, find out how well it performs on different floor types, and learn what other users have to say about it.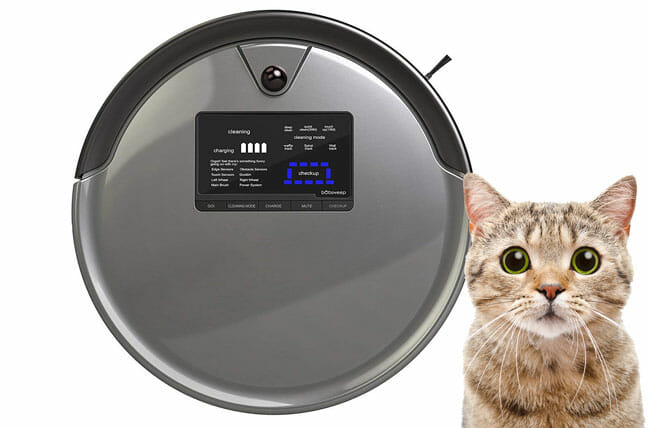 Design & Specifications
bObsweep robotic pet vacuum is round-shaped and features an elegant and minimalistic design dominated by a large LED screen on the top and a black bumper at the front. The vacuum is available in 4 colors, including champagne, charcoal, cobalt, and rouge.  All versions feature a glossy finish that enhances the vacuum's aesthetic appeal.
It is not the smallest of robotic pet vacuums and its height may prevent it from cleaning in all low-hanging spaces. However, the ability to make 360-degree turns allows it to easily clean around furniture and catch all the dirt and hair without multiple passes. The LED screen combined with remote control makes bObsweep easy to use and program.
Weight
Diameter
Height
7.72 pounds
13.78 inches
3.94 inches
Cleaning Path
Area Coverage
Max Doorsill Crossing
12 inches
1,000 square feet
Up to 1 cm
Cord
Bag
Wattage
Cordless
Bagless
12 Watts
Battery Type
Run Time
Full Recharge
2,200 mAh lithium-ion battery
Up to 75 minutes
4-5 hours
Auto Charging Station Locator
Speed Modes
Filtration System
Yes
Fast and slow
Mesh filter, electrostatic filter, and HEPA filter
Dust Capacity
Full Dirtbin Indicator
Dirt Sensor
1 L
No
Yes
Auto Surface Adjustment
Brushes
Edge, Wall & Obstacle Detection
Yes
Main and side brushes
Yes
Remote Control
Schedulable Weekly Cleaning Sessions
WiFi Connectivity
Yes
7
No
Virtual Boundaries
Yes
Noise Level
Under 67 dB
Features
bObsweep's impressive feature set is one of the main reasons why it is so popular among pet parents. With a multitude of handy tools and settings, this vacuum easily conforms to the demands of your household and performs its cleaning sessions in accordance with your needs and desires. Although it lacks WiFi connectivity, it comes with a remote control that lets you determine exactly how, when, where, and how often bObsweep should work.
In this section of our bObsweep review, we will provide brief descriptions of nearly a dozen of the most prominent features of this vacuum.
4X Boosted Suction
With 4x boosted suction power, bObsweep is able to eliminate particles of different sizes, including pet hair and fur, cat litter, crumbles, and other pet and non-pet-related messes.
Multi-Functional
While bObsweep is referred to as a robotic pet vacuum, it does much more than just vacuuming. It sweeps, vacuums, mops, and UV-sanitizes floors, thus removing everything from mud and dirt to pet hair, germs, and bacteria. It further uses HEPA filtration to eliminate sub-micron particles like allergens.
6 Cleaning Modes
bObsweep lets you choose between as many as 6 cleaning modes, including Deep Clean, Quick Clean, Touch Up, Waffle Track, Spiral Track, and Wall Track. In the Deep Clean mode, bObsweep is instructed to clean a large area for more than an hour, with possible pauses due to battery depletion.
The Quick Clean mode is used for cleaning medium-sized areas and the cleaning time is limited to half an hour. In the Touch Up mode, the vacuum covers a small cleaning area for 15 minutes. The Waffle Track mode is used for localized spills. In this mode, the vacuum traces a grid pattern to thoroughly clean a spill area measuring 6 by 5 inches.
The Spiral Track mode is similar to the Waffle Track mode in that it is used for localized spills. However, unlike Waffle, it instructs the vacuum to cover an area measuring 5 by 5 inches by tracing a spiral pattern, starting from the center of the spill area and reversing its movement when it reaches the edge of the spill spot. The Wall Track mode lets you instruct your vacuum to clean by the edges only, narrowly tracing the wall line.
Remote Control
bObsweep's FullCommand remote control lets you schedule cleaning sessions, manually control your vacuum's movement, choose a different cleaning mode, activate or deactivate the UV light, and much more.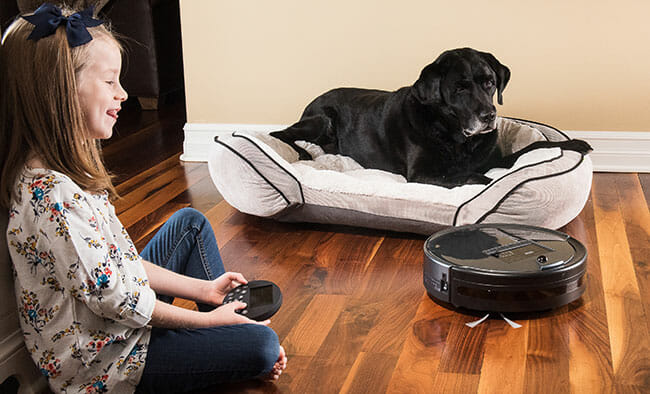 Virtual Boundaries
If there are some parts of your home that bObsweep should not have access to, you can use blOck Plus to create virtual boundaries and let your vacuum know where it should not go. You can draw up to 2 virtual boundaries measuring 10 feet in length.
Edge & Obstacle Detection
Edge and obstacle sensors prevent bObsweep from falling off stairs and edges and continuously bumping into insurmountable obstacles like furniture.
Dirt Detection
bObsweep does not only detect edges and obstacles, but it is also equipped with a dirt sensor that tells it which parts of your floor could use some extra scrubbing.
Scheduling
With bObsweep, you can easily schedule up to 7 cleaning sessions per week. You only need to choose the desired days and times and the vacuum will self-start whenever it is convenient for you.
HEPA Filtration
In addition to a mesh filter for large particles and an electrostatic filter for fine particles, bObsweep uses a HEPA filter that captures more than 99% of particles larger than 0.3 microns.
LED Screen
Unlike most robotic pet vacuums, bObsweep features a LED screen that provides a variety of useful information, including battery level, charging progress, the current cleaning mode, cleaning time, program settings, potential issues and malfunctions, and more.
Extra-Large Dustbin
bObsweep's huge 1-liter dustbin is specially designed for pet hair storage. Due to its extraordinary capacity, the vacuum can go through multiple cleaning sessions before it is time to empty the dustbin.
Attachments & Accessories
bObsweep's accessory pack includes 5 elements, some of which we have already mentioned in this bObsweep review. These include the FullCommand remote control, the blOck Plus device, a cleaning tool, a mop attachment, and microfiber mopping cloths.
As explained earlier, the FullCommand remote control is used to manually control and program your vacuum while the blOck Plus device is used for creating virtual boundaries. The cleaning tool can be used to clean virtually all parts of the vacuum that could get covered in pet hair and dirt, including the dustbin, wheels, brushes, and filters.
The mop attachment and microfiber mopping cloths, which can be used damp or dry, perform the important function of removing mud and dirt from your floors.
Performance
Exclusively designed for floor cleaning, bObsweep is not able to clean stairs and above-floor surfaces. Nonetheless, it excels at cleaning nearly all types of flooring due to its increased suction power and mighty main and side brushes. You can use it on bare floors, including wood, tiles, and linoleum, as well as low-pile and high-pile carpets.
Let us discover how well this vacuum performs on different flooring types.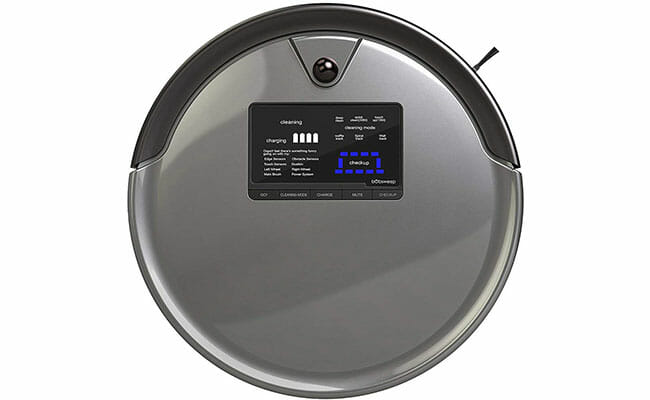 Bare Floors
When it comes to bare floors, bObsweep's performance is amazing, as it removes all or nearly all pet hair and dirt. It is able to remove over 95% of both fine and large particles and it efficiently eliminates pet hair and fur. Thanks to its dirt sensor and cleaning modes for localized spills, bObsweep is able to remove larger amounts of dirt. It is great at mopping bare floors, although really stubborn stains may not be removed after a single cleaning session.
Low-Pile Carpets
Surprisingly enough, bObsweep's performance on low-pile carpets is nearly equal to that on bare floors. Pet hair is usually removed in a single pass and the same goes for crumbles, litter, and other large particles. Although the vacuum boasts powerful suction, finer particles stuck in the carpet fiber may not be removed instantly, but with daily vacuuming sessions, they are sure to be removed after 2 or 3 attempts.
High-Pile Carpets
Unlike many other robotic pet vacuums, bObsweep does not get easily stuck in high-pile carpets and it does a pretty good job removing both hair and dirt. The previously mentioned issue with fine particles embedded in carpets is more visible in high-pile conditions, although the results are still better than with most other robotic pet vacuums on the market.
Pricing
As we are writing this bObsweep review, the price of bObsweep on Amazon ranges from $309 to $549.98, depending on the color you choose. Shipping comes free of charge within the US. Included in the package are your bObsweep robotic pet vacuum, 2 main brushes (1 spare), 2 side brushes (1 spare), 1 charging station, 1 charging adapter, 1 FullCommand remote control, 1 blOck Plus, 1 flat head screwdriver, 1 cleaning tool, 1 pack of screws, 1 mop attachment, 2 microfiber mopping cloths, 1 filter replacement, 1 owner's manual, 1 quick start guide, and 1 warranty card.
The vacuum comes with a 2-year limited warranty that covers damages and malfunctions that are not caused by improper maintenance and use. The warranty does not cover routine replacement parts. Since bObsweep is sold via Amazon, it comes with Amazon's 30-day money-back guarantee. To receive a full refund, you need to return the vacuum in the original condition and packaging.
Does bObsweep Live Up To Expectations?
The vast majority of bObsweep users are incredibly satisfied with the device, giving it 5 out of 5 stars. They are generally impressed by its powerful suction, ease of use, aesthetically appealing design, and pet hair removal efficiency. Malfunction reports are rare and most users find it to be a durable appliance that performs as expected.
However, some users report that the vacuum occasionally experiences navigation issues and that it may have a hard time locating its charging base or detecting all obstacles. Furthermore, there are some users who claim that its cleaning pattern is often random and that it may clean a small area for a long time, neglecting to move on to another part of the floor before its battery dies. Still, this kind of behavior may be caused by an increased amount of dirt in the area. Finally, some users find it to be noisy, but most users do not agree with this claim.
Overall, bObsweep users find this vacuum to be efficient, reliable, and durable and they praise its functionality and usability. Some navigation issues may occur, but this is far from unusual in robotic pet vacuums.
Pros
Easy to use and maintain
Attractive design
Sweeps, vacuums, mops, and UV-sanitizes floors
Excellent performance on all floor types
4x boosted suction power
6 cleaning modes
Remote control
Virtual boundaries
Edge and obstacle sensors
Dirt sensor
Up to 7 scheduled weekly sessions
HEPA Filtration
The largest dustbin in the industry
Great customer service
2-year limited warranty
30-day money-back guarantee
Cons
No WiFi connectivity
Navigation issues
Verdict
Keeping in mind all the advantages and flaws presented in this bObsweep review, it is justified to say that bObsweep's strengths definitely outweigh its weaknesses. Its strong suction, multi-functionality, great usability, and above-average results on all types of flooring make it a recommendation-worthy pet vacuum cleaner that outperforms most of its competitors.
The lack of WiFi connectivity may be an issue for some users and less-than-perfect navigation can require some manual control, but these flaws are minuscule in comparison to everything this convenient automated cleaning solution offers.