Bissell Powerlifter Review
Advertiser Disclosure
This website features affiliate links. For purchases made via these links, we earn commissions that allow us to keep producing helpful content. To find out more
click here
.
Close
Bissell Powerlifter pet vacuum cleaner is a compact bagless upright that comes with several efficient tools particularly designed for pet hair removal. It uses advanced technologies that prevent scatter on bare floors, minimize suction loss, and allow for easy lifting and elimination of deep-embedded dirt.
This handy pet vacuum is a product of Bissell, a well-known Michigan-based company that has been providing smart home cleaning innovations since 1876. Discover what makes this vacuum superior or inferior to other similar pet vacuum cleaners in this in-depth Bissell Powerlifter review.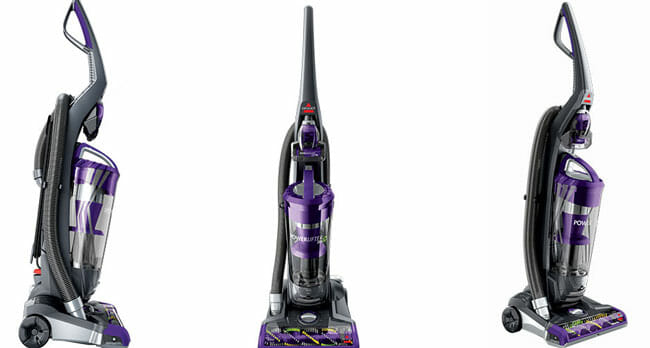 Design & Specifications
Bissel Powerlifter features a simplistic, modern design and it is available in an attractive grapevine purple color. In comparison to most other bagless uprights, it is unusually lightweight. Its modest dimensions make it easy to store, despite the lack of automatic cord rewind.
The vacuum's easily maneuverable body makes up for the absence of a swiveling head. Although the hose is shorter than optimal, the long cord and the extension wand included in the package provide satisfactory cleaning reach and facilitate room-to-room cleaning. The ergonomic handle and handy power and recline pedals ensure great convenience and ease of use.
Weight
Dimensions
Hose Lenght
14.5 pounds
31.7 x 14.7 x 11.5 inches (HWD)
8 feet
Cord Lenght
Cleaning Path
Power
30 feet
13.5 inches
8 Amps
Voltage
Filter
Retractable Cord
120 Volts
Multi-level (pre-motor and post-motor) filtration with odor-eliminating Febreze filter
No
Brush Roll Switch
Dust Capacity
Dirt sensor
No
0.9 liters
No
Airflow Indicator
Bag
Swiveling head
No
Bagless
No
Height Adjustment
5 settings
Noise Level
N/A
Features
Unlike some other pet vacuum cleaners that do not specifically target pet hair but better fit the category of standard vacuums, Bissell Powerlifter is equipped with specialized tools and features that truly make hair removal a breeze. In this section of our Bissell Powerlifter review, we will focus on the features that enable this vacuum to efficiently perform its primary function.
Multi-Cyclonic Cleaning System
Multi-cyclonic suction allows for great hair and dirt pickup and a thorough, deep clean. It prevents major fluctuations in suction power, with variations remaining below the tolerable 5% mark.
Scatter-Free Technology
Particularly designed for easier bare floor vacuuming, the Scatter-Free technology ensures that both large and fine particles end up in the dirt canister instead of getting dispersed across the floor.

Triple Action Brush Roll
The aptly named Triple Action brush roll combined with steady suction successfully loosens, lifts, and removes deep-embedded dirt and pet hair from various surfaces. It is especially useful in vacuuming high-pile carpets.
5-Level Height Adjustment
With 5 height adjustment settings, Bissell Powerlifter easily conforms to the requirements of different surfaces, including hard floors and both low-pile and high-pile carpets. Adjust the settings for a more customized cleaning experience and improve vacuuming results with a proper level selection.
Odor Control
Thanks to the advanced Febreze filter, Bissell Powerlifter boasts great odor control, so you never have to deal with the all-too-familiar, stuffy after-vacuuming smell. It eliminates pet odors and freshens the air as you vacuum, maximizing the feeling of cleanliness in your home.
Attachments & Accessories
Bissell Powerlifter comes with a complete 4-piece accessory pack, including an extension wand, a crevice tool, the Pet TurboEraser® tool, and the Pet Hair Eraser tool. As the hose measures a mere 8 feet, the extension wand is often necessary and it extends the cleaning reach of the vacuum beyond 10 feet, which is satisfactory but not particularly impressive.
The flexible crevice tool is designed to help you clean in narrow spaces in-between and underneath furniture and remove pet hair and dirt from all kinds of cracks and crevices. Since the tool is bendable, it can clean spots that other vacuums simply cannot reach.
The Pet TurboEraser® tool features rubber flaps that remove pet hair from upholstery. It is great for cleaning furniture with plenty of bends and crevices. The special Pet Hair Eraser tool features a velvet strip designed to pull embedded pet hair from upholstery and carpeted stairs. Unfortunately, it does not store on-board, which is both surprising and inconvenient.
Performance
As suggested in the previous sections of this Bissell Powerlifter review, this pet vacuum can be used on a wide range of surfaces. These include bare floors, high-pile and low-pile carpets, upholstery, and carpeted stairs. Let us find out how well it works depending on the cleaning surface.
Bare Floors
Although the brush roll does not come with an on/off switch, the vacuum is gentle on floors, so you can use it without fear on high-quality hardwood floors, as well as linoleum, terrazzo, tiles, and virtually any other floor type.
Bare floor cleaning is where the Scatter-Free technology really shines, as you can clearly see how well the vacuum lifts and removes all hair and dirt, regardless of particle size. Most often, a single pass will do, so you can clean your floors in minutes. For optimal performance and damage prevention, be sure to choose the right height adjustment setting.

Carpets
The Triple Action brush roll boasts great performance on carpets of different depths, but due to the absence of variable suction control, the vacuum's suction power may be too great for lighter carpets. That being said, you can expect a deep clean no matter what kind of carpets you own, but just like with bare floors, you need to choose a proper height adjustment setting, which may be a trial-and-error process. You know you have selected the right level if the vacuum runs smoothly, without requiring much effort on your part.
Upholstery
With the double effectiveness of the Pet TurboEraser® and Pet Hair Eraser tools, Bissell Powerlifter yields exceptional results on upholstery. If you just want to remove pet hair, the Pet Hair Eraser tool will suffice while the presence of crumbs and other dirt particles may require the use of the Pet TurboEraser® tool. Either way, you can be sure that the vacuum will remove pet hair from deep within the upholstery due to excellent suction and the valuable assistance of special tools.
Stairs
For stair vacuuming, you can use either the Pet TurboEraser® tool or the Pet Hair Eraser tool, depending on the state of the carpeting and the presence of dirt particles. The results are just as impressive as those observable when cleaning upholstery. However, the short hose does not allow for effortless cleaning due to the limited cleaning reach.
Pricing
With a price tag of $119.99, Bissell Powerlifter is a rather affordable pet vacuum cleaner. It comes with free standard shipping across the US, so there are no additional costs. The vacuum comes with a generous 5-year limited warranty that covers defects and malfunctions that are not caused by improper use or negligence. The warranty does not cover routine maintenance components, such as filters and belts.
If you are not perfectly satisfied with the device, you can return it within 30 days from the delivery date and get a refund. The device must be returned in its original packaging, complete with all accessories, manuals, and components. You only need to pay a $4.95 return shipping fee.
Does Bissell Powerlifter Live Up To Expectations?
Bissell Powerlifter's user rating generally hovers around 4 out of 5 stars, which is undeniably good but does point to certain flaws that result in a less-than-perfect score.
Namely, most users agree that in spite of the limited power of its motor, Bissell Powerlifter provides a deep clean across all surfaces and works great on upholstery thanks to the specialized tools. The Scatter-Free technology allows it to easily pick up cat litter and other fine particles. The vacuum efficiently removes pet hair from hard-to-reach spots. Furthermore, users greatly appreciate its lightness and claim that it is easy to maneuver. It is also praised for its excellent odor control.
What some users dislike is the screw-top dirt canister that is not as easy to empty as bottom-release cups. A number of users have pointed out that the vacuum's dust capacity is small, so frequent emptying is required. Finally, a small number of users have complained about overheating and excessive noise, but many users disagree with these claims. It should be noted that overheating is normally the result of infrequent maintenance, primarily filter cleaning.
Overall, Bissell Powerlifter is a highly rated pet vacuum that satisfies the vacuuming needs of the majority of pet owners. In spite of the abovementioned flaws, it is often described as a smart investment, as it offers great pet hair and dirt removal results at a good price.
Pros
Compact and lightweight
Multi-cyclonic cleaning system
Scatter-Free technology
Triple Action brush roll
5-level height adjustment
Multi-level filtration with odor elimination
Crevice, Pet TurboEraser®, and Pet Hair Eraser tools
Extension wand
5-year limited warranty
Cons
No automatic cord rewind
No brush roll switch
No swiveling head
Screw-top canister
Verdict
Finishing off this Bissell Powerlifter review, we can conclude that this pet vacuum cleaner does an excellent job at removing both pet hair and fine particles like cat litter. It does suffer from some relatively minor flaws, including the inconvenient screw-top canister, the short hose, and the lack of a swiveling head, brush roll switch, and automatic cord rewind. Still, it is pretty powerful and budget-friendly, so if you are not looking for a feature-rich appliance but rather want to get a reliable pet vacuum that does not cost too much, Bissell Powerlifter may be the right fit for your home.