Bissell Symphony Review
Advertiser Disclosure
This website features affiliate links. For purchases made via these links, we earn commissions that allow us to keep producing helpful content. To find out more
click here
.
Close
Bissell Symphony (1132) is a revolutionary all-in-one device that allows you to vacuum and steam at the same time. This innovative hybrid was developed and manufactured by Bissell, a well-known company whose founder invented the first floor sweeper way back in 1876.
Find out more about this vacuum cleaner and its capabilities in our comprehensive Bissell Symphony review and discover if it is a good fit for your home.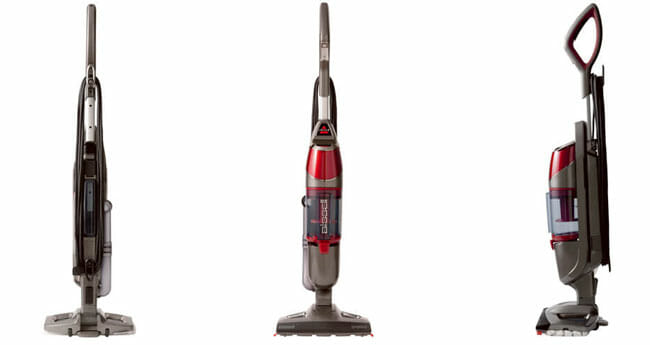 Design & Specifications
Bissell Symphony features an attractive design. Its sleek shape is dominated by gray & silver with a hint of red. The company defines the color as "gingersnap/red berends." Being an upright vacuum cleaner/steam mop, Bissell Symphony is a bit heavier than your regular vacuum and does not feature a swivel head. In other words, maneuverability is ok, as long as you do not expect it to make sharp turns and go under low pieces of furniture.  
It is important to keep in mind that it requires a lot of storage space due to its bulky design and considerable measurements.  
| Weight | Dimensions | Hose Lenght |
| --- | --- | --- |
| 9.7lb | 9" x 11" x 46.5" | No hose |
| Cord Lenght | Cleaning Path | Power |
| 25' | 11" | N/A |
| Voltage | Filter | Cord |
| 120 Volts | Rinsable filter model number 1250 | Non-retractable |
| Dust Capacity | Bag | Swiveling head |
| N/A | Bagless | No |
| Thermal/Overload Protection | Height Adjustment | Noise Level |
| No | No | N/A |
Features
Bissell Symphony is an all-in-one vacuum and steam mop that allows you to clean anything from pet hair to solid debris from any hard floor surface without a mop and a bucket or harsh chemicals. Here are some of its main advantages: 
3 Ways To Clean
Bissell Symphony allows you to customize your cleaning through easy touch digital controls. You can vacuum and steam separately or at the same time. 
VAC & SHINE
Bissell Symphony will not only pick up debris but also restore your floor's natural shine. 

Dry Tank Technology
This revolutionary tech will keep the dirt tank completely dry while you clean. 
Quick-Release Mop Pad Tray
The hybrid's detachable mop pad tray makes switching mop pads much simpler and easier. 
Steam Sanitization
Bissell Symphony allows you to eliminate up to 99.99% of germs and bacteria without any dangerous chemicals that could act as pet repellents. 
Odor Control
The provided mop pads are made of proprietary microfibers infused with Microban anti-microbial technology that also eliminates unpleasant smells. 
Adjustable Handle
The 5-way adjustable handle offers much easier maneuverability on open floors. 
Attachments & Accessories
Hybrids usually do not come with a lot of separate attachments and accessories – and Bissell Symphony is not an exception. Each device features 1 white pad, made for hard floors, and 1 scrubby pad, designed for scrubbing tasks.  
You will also get 1 set of vacuum filters, including pleated circular and foam replacement filters. Note that the filters are not dishwasher safe and should only be cleaned manually until replaced. 
Performance
As we already mentioned in this Bissell Symphony review, this hybrid was specifically designed to vacuum and steam hard flooring, including sealed hardwood, marble, vinyl, tiles, stone, and linoleum. You should not use it on waxed floors and unsealed wood floors.
Bissell Symphony will pick up any pet hair or small debris and disinfect the surface at the same time without damaging your floors. Its suction power is incredibly strong for a hybrid and can clean floors thoroughly in just one pass. 
Bissell Symphony is not designed to clean carpets, upholstery, and similar materials. Since it does not have a rotating brush tool, it cannot remove pet hair and small debris out of your carpets. It can pick up everything located on the surface of the carpet, but it cannot penetrate its lower layers.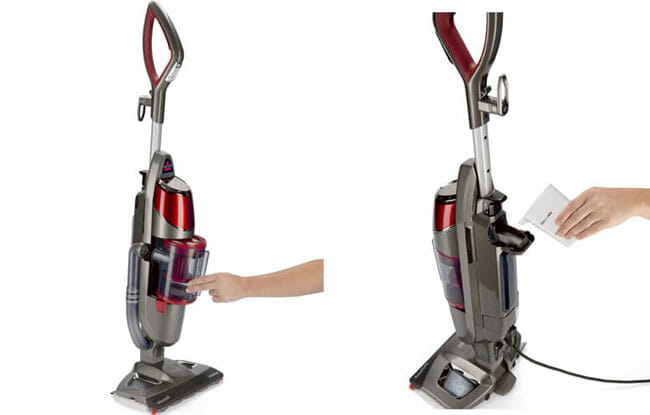 Pricing
Bissell Symphony costs $179.99, which is a reasonable price for this powerful hybrid. Shipping is free of charge. In addition to standard credit card payment options, Bissell also accepts PayPal. Bissell Symphony comes with a 30-day satisfaction guarantee, so if you do not like this hybrid, you can return it within 30 days from the delivery date, but you will have to pay the return shipping costs ($4.95). It can take up to 4 weeks for your refund to be processed. 
The company also offers a limited 2-year warranty against all defects in materials and workmanship. In order to activate your warranty, you should register your product on the official Bissell website. If you agree to receive the company's newsletter, you will receive a 10% discount on all Bissell accessories.
Bissell is known for donating up to 1 million dollars each year to BPF. For each product purchased, the company donates $10 to help the organization find new homes for abandoned pets.  
Does Bissell Symphony Live Up To Expectations?
According to its customers, Bissell Symphony performs better than expected on any type of hard floor surface. Its soft cleaning pads do not damage the floors, providing them with a smooth polish as well. The hybrid sanitizes surfaces too, which is a big plus for customers who like to walk barefooted around the house.
Users report that Bissell Symphony's ergonomic design and adjustable handle make it easy to control the vacuum and navigate through furniture mazes. As for its downsides, customers point out that the device's water tank could use a bit more capacity since it currently provides around 15 minutes of steaming and takes half an hour to heat the water.
Pros
2-in-1 hybrid (vacuuming and steaming) 
Internal water heater 
VAC&SHINE 
Dry Tank Technology 
Easy touch digital controls 
Adjustable handle 
Excellent ergonomic design 
Eliminates up to 99.99% of germs 
Odor control 
Quick-release pad tray 
Soft cleaning pads that do not damage hard floor surfaces 
Budget-friendly 
30-day satisfaction guarantee 
2-year limited warranty 
Cons
Designed only for hard floors 
Small water tank 
Verdict
Bissell Symphony is a revolutionary hybrid that allows you to vacuum and steam your hard floors with one device. In other words, it replaces your regular vacuum plus a mop and a bucket. On top of this, it saves money on cleaning solutions by replacing them with the power of water. 
Its upright construction does reduce maneuverability, but the company did everything to compensate for this by implementing an ergonomic design and an adjustable handle. Bottom line, this Bissell Symphony review presented a device that has its flaws, which are largely overshadowed by the benefits it has to offer. Its quality, utility, and affordable price definitely put it lightyears in front of the competition.