Bissell BOLT Review
Advertiser Disclosure
This website features affiliate links. For purchases made via these links, we earn commissions that allow us to keep producing helpful content. To find out more
click here
.
Close
Bissell BOLT is a cordless, bagless handheld pet vacuum universally praised by experts and users alike. It is manufactured by Bissell, a Michigan-based company with a stellar reputation and a tradition spanning more than 140 years.
In comparison to most pet vacuums of its kind, Bissell BOLT boasts more powerful suction, larger dirt capacity, and longer run time. It is perfect for quick cleanups around the house as well as vacuuming car interiors. Get a full sense of what this compact, lightweight pet vacuum can do for you in this detailed Bissell BOLT review.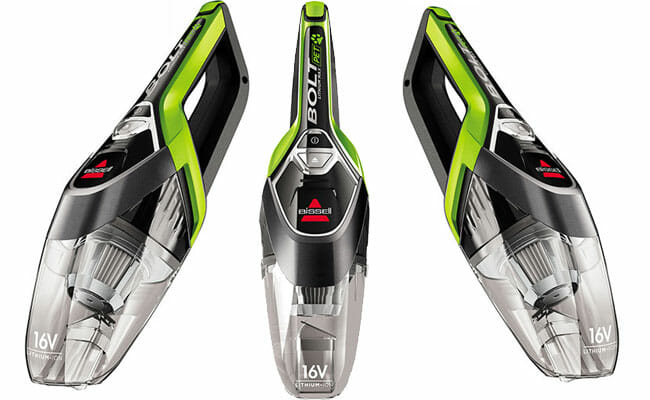 Design & Specifications
Being cordless, small in dimensions, and incredibly lightweight, Bissell BOLT is a handy device that is easy to use and store. This little handheld vacuum cleaner requires no assembly, which is another big plus. Its design is ergonomic, sleek, and minimalistic and the black color combined with cha-cha lime accents makes it highly aesthetically pleasing.
Right next to the well-designed handle are the power button and the cup removal button. While this can be deemed convenient, with virtually no space between the two buttons, it is quite easy to push the wrong one, which can result in a real mess if you want to turn the device on or off but accidentally hit the cup removal button. This is possibly the greatest design flaw of this otherwise well-crafted pet vacuum.
Weight
Dimensions
Hose
2.5 pounds
17.2 x 5 x 5 inches (HWD)
No hose
Cleaning Path
Battery Voltage
Battery Type
3 inches
16 Volts
Rechargeable lithium-ion battery
Run Time
Full Recharge
Filter
Up to 25 minutes
Up to 4 hours
1-stage filtration; washable mechanical air filter
Cord
Motorized Brush Roll
Dust Capacity
Cordless
No
0.6 liters
Bag
Bagless
Noise Level
N/A
Features
Bissell BOLT does not employ any particularly innovative or revolutionary solutions and its feature set is rather basic. However, as we mentioned before in this Bissell BOLT review, it does possess a couple of characteristics that make it superior to most other handheld models. Here are the crucial features of this not-so-ordinary pet vacuum cleaner.
Powerful Cyclonic Suction
Handheld pet vacuums are generally not known for great suction power, but Bissell BOLT stands out from the crowd. In comparison to its competitors, it is more powerful and more efficient when it comes to pet hair removal. Its mighty cyclonic suction system allows it to swiftly move debris into the dirt cup with minimized airflow obstructions and power loss.
Long Run Time
Most handheld pet vacuums in the same price range provide rather short run times of about 15 minutes. With up to 25 minutes of run time, Bissell BOLT is far superior to others and allows you to easily clean your car on a single charge or do several quick cleanups before it is time to recharge the battery.
Large Dirt Cup
Bissell BOLT's dirt capacity of 0.6 liters is quite impressive, even in comparison to larger pet vacuum types. It lets you vacuum multiple times without emptying the cup, saving you both time and effort. Furthermore, the dirt cup is transparent and lets you easily see when it is time to empty or clean the cup.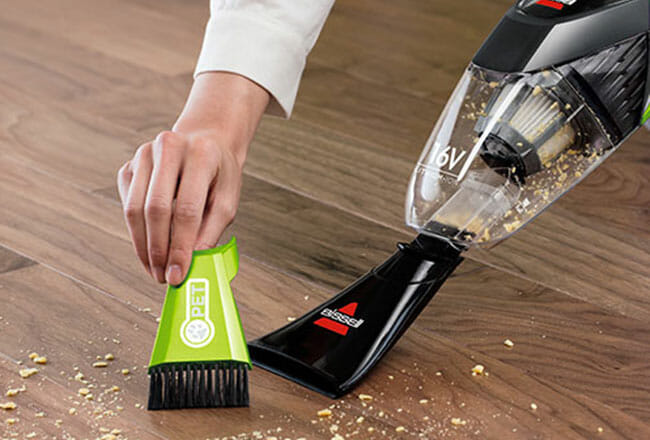 Clean Turn Filtration
With Clean Turn filtration, removing excess debris from the filter is completed in a simple turn of the tab.
Battery Power Lights
Bissell BOLT features a LED display that informs you about the battery level and charging progress.
Attachments & Accessories
Bissell BOLT's accessory pack includes only 2 accessories, both specialized for cleaning up pet-related mess. The first is the combination crevice w/ dust brush tool, which allows for easy removal of accumulated pet hair and dirt in narrow spaces. The second is the pet hair nozzle, which facilitates hair removal on soft surfaces by pulling and lifting deep-embedded hair and dirt with the use of rubberized teeth.
Performance
According to the manufacturer, Bissell BOLT can be used to clean bare floors, low-pile carpets, countertops, stairs, upholstery, and car interiors. However, due to its narrow cleaning path and inherent limitations in terms of suction power, it can hardly compete with powerful uprights when it comes to cleaning large surfaces, particularly carpets. Still, this cannot be considered a major flaw since handhelds are generally designed for quick cleanups and car vacuuming. That being said, let us find out how this pet vacuum performs on different surfaces.
Bare Floors
Bissell BOLT performs rather well on bare floors. It is great at removing pet hair but may struggle a bit with larger particles. Vacuuming large floors with this pet vacuum is not a good idea due to the strain put on your back. However, if you just need to clean a small area, it will successfully remove both hair and fine dirt particles.
Low-Pile Carpets
With the help of the pet hair nozzle, this vacuum is able to remove most of the hair from low-pile carpets. Still, you should not expect perfect results, as its suction power is significantly lower than that of high-performing uprights and canister vacuums. Like in the case of bare floors, you should use it on smaller carpeted areas if you want to avoid back pain. To maximize the results, you need to vacuum frequently, so the hair does not get embedded too deeply in between vacuuming sessions.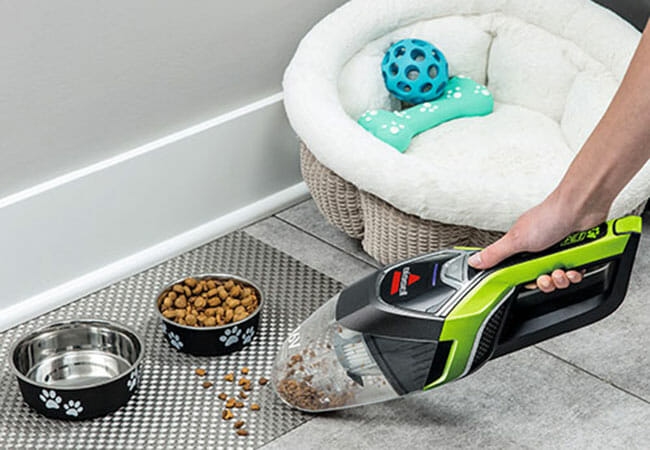 Countertops
Bissell BOLT is simply perfect for cleaning countertops. While it is a good idea to remove the largest chunks before vacuuming, the vacuum excels at cleaning all kinds of messes on countertops. Since it is light, small, and cordless, it is great for cleaning on the go.
Stairs
Depending on whether the stairs are carpeted or not, Bissell BOLT can provide good to excellent results on staircases. Both the crevice/dust brush tool and the pet hair nozzle can be of use in stair vacuuming and the absence of a cord allows you to effortlessly move up and down the stairs. The vacuum's lightness makes the job easier, but its narrow cleaning path makes stair vacuuming a time-consuming task.
Upholstery
Bissell BOLT is a handy solution for vacuuming upholstery. Its pet hair nozzle is of great help and removes most of the hair and dirt, although the results vary depending on fabric type. Its limited suction power makes it less efficient than mighty uprights, but in comparison to other handhelds, it produces above-average results and it is incredibly convenient.
Car Interiors
Often described as one of the best handheld pet vacuums for cleaning car interiors, Bissell BOLT makes vacuuming your car effortless and its performance is top-notch. Be sure to make use of the accessories to easily clean crevices and seats.
Pricing
Bissell BOLT costs $69.99, which is not a low price for a handheld, but it is more than justified by the vacuum's quality and efficiency. The vacuum comes with 1 crevice/dust brush tool, 1 pet hair nozzle, 1 lithium-ion battery, and 1 charging adapter included in the package. Orders within the US come with free standard shipping.
The manufacturer offers a 1-year limited warranty that covers malfunctions and damages that are not caused by improper use or maintenance. It does not cover fans and routine replacement parts like belts and filters.
If you are not satisfied with the vacuum, you can return it within 30 days after the date of delivery. Keep in mind that the product needs to be returned in its original packaging, with all accessories and manuals included. Furthermore, you are required to pay a $4.95 return shipping fee.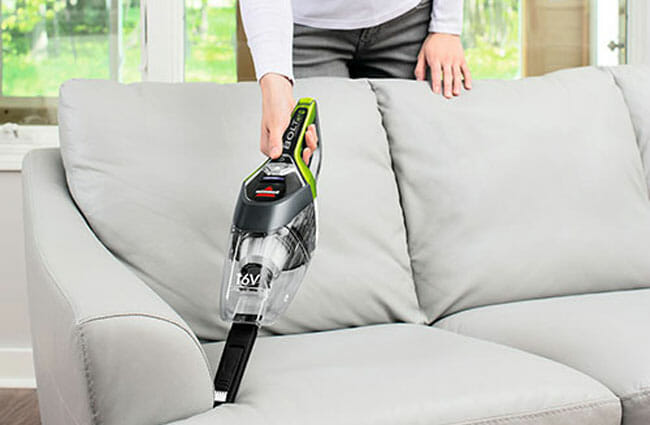 Does Bissell BOLT Live Up To Expectations?
Users of Bissell BOLT often praise its efficiency, suction power, run time, material quality, attractive and ergonomic design, ease of use and storage, and large, easy-empty dirt cup. In terms of performance, the majority of users agree that it easily removes pet hair and works great on bare floors, countertops, and car interiors. However, when it comes to carpets and upholstery, some users say that it is excellent while others say that it does a mediocre job. These differences in opinion may stem from differences in fabric type.
Complaints are not highly common and mostly refer to the unfortunate proximity of the power and cup removal buttons, relatively long charging time, decrease in suction power at lower battery levels, and the wide mouth that may allow dirt to fall out if the vacuum is not held in the upright position.
In spite of minor flaws, most users agree that it offers good value for money and state that they would recommend it to fellow pet parents.
Pros
Lightweight, compact, and easy to use and store
Great suction for a handheld
Efficiently removes pet hair from various surfaces
Run time of up to 25 minutes
Impressive dirt capacity of 0.6 liters
Pet hair nozzle and combination crevice/dust brush tool
Easy empty with cup removal button and Clean Turn filtration
1-year limited warranty
30-day money-back guarantee
Cons
Power and cup release buttons are too close together
Wide mouth may lead to occasional dirt spills
Lower battery levels result in diminished suction power
One-stage filtration; no HEPA filter
Verdict
At the end of this Bissell BOLT review, all that is left for us to say is that this small handheld pet vacuum is as light and easy to use as it is efficient at pet hair removal. While best suited for quick cleanups and car vacuuming, it can be used to vacuum anything from countertops, bare floors, and low-pile carpets to stairs and upholstery, although with varying results.
It boasts a long run time and large dirt capacity, which is not common among handhelds. Its design is praise-worthy, in spite of the abovementioned flaws related to button proximity and occasional accidental dirt spills.
We warmly recommend this pet vacuum to pet parents who are looking for a powerful and versatile handheld that can make daily vacuuming effortless.