Shark Rotator TruePet Review
Advertiser Disclosure
This website features affiliate links. For purchases made via these links, we earn commissions that allow us to keep producing helpful content. To find out more
click here
.
Close
Shark Rotator TruePet is a 2-in-1 upright vacuum designed for optimal floor-to-ceiling cleaning. It was first introduced back in 2016 and has quickly gained huge popularity among pet owners thanks to its ability to remove pet hair from all types of surfaces.  
If you're struggling with pet hair and hard-to-reach places in your home, read our comprehensive Shark Rotator review and discover what this amazing cleaning tool can do for you.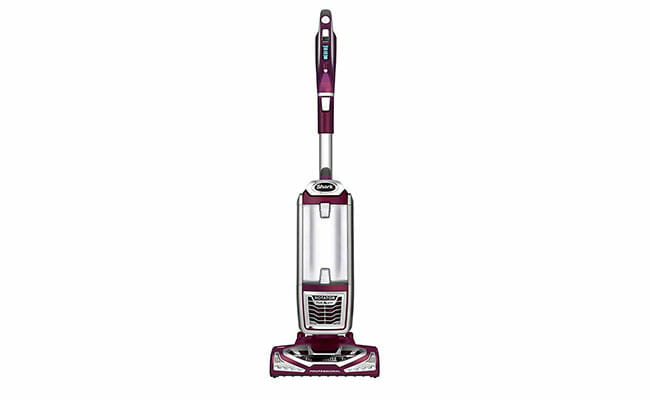 Design & Specifications
Shark Rotator TruePet is a sleek and elegant upright vacuum cleaner with a modern and utilitarian design. The "basic" model comes in silver and bordeaux, but you can also order it in cinnamon with a transparent dust cup.  
| Weight | Dimensions | Hose Length |
| --- | --- | --- |
| 15.6lb | 46"(H) x 12"(W) x 13"(D) | N/A |
| Cord Length | Cleaning Path | Power |
| 30' | N/A | 1,200W |
| Voltage | Filter | Cord |
| 120 Volts | Pre-motor foam/felt filters + HEPA | Non-retractable |
| Dust Capacity | Bag | Swiveling head |
| 3.3 dry quarts | Bagless | Yes |
| Thermal/Overload Protection | Height Adjustment | Noise Level |
| No | No | N/A |
Features
Shark Rotator TruePet offers a myriad of useful features, so let's take a look at some of the most prominent ones: 
Lift Away
The lift away feature enables you to detach the canister from the main base for a fully portable cleaning experience.
Fingertip Controls
Easy-to-reach controls allow for seamless transitions between different cleaning modes. You can choose between the settings for hard floors, carpets/low piles, and thick carpets/area rugs. 
Works On All Floor Types
Shark Rotator can pick up debris and surface litter both from hard floors and the plushiest of carpets and area rugs.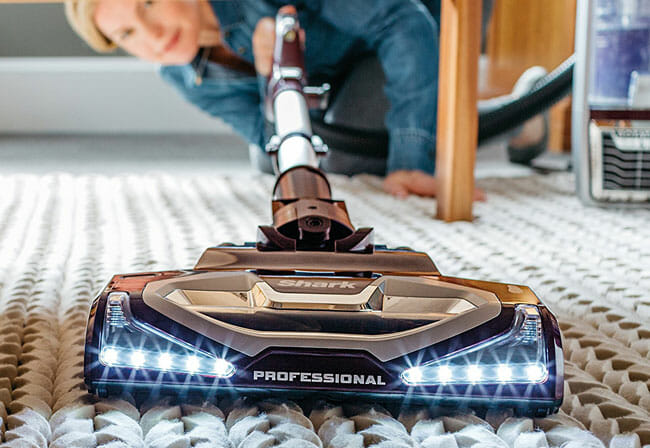 Special Attachments For Pet Hair
Shark Rotator comes with a specialized TruePet motorized brush and pet multi-tool that both allow you to remove pet hair from any surface. 
Dynamic Steering
The flexible swivel and proprietary steering technology provide you with unparalleled control while cleaning your home and allow you to easily go around furniture and any other obstacle in your way.  
Anti-Allergen Complete Seal Tech
Shark Rotator TruePet is equipped with HEPA filtration that traps any allergens in the air. It also keeps 99% of dust inside the vacuum.  
3 Nozzle Settings
Depending on the surface you're cleaning, you can choose between the three settings with visual indicators on the vacuum handle. 
Canister Caddy
The canister caddy lets you turn your Shark Rotator into a canister vacuum cleaner.  
Washable Filters
Both the pre-motor and HEPA filters can be washed, which saves you money on frequent replacements.  
LED Lights
Shark Rotator features LED lights on the handle and the floor nozzle, so you'll never miss any hidden debris. Note that the lights cannot be turned off.
Attachments & Accessories
Shark Rotator TruePet comes with a wide assortment of one-of-a-kind accessories, which include: 
Hard Floor Genie (with one pad) – Designed to vacuum larger debris and wipe away fine dust in one passing.
Dusting Genie – Two cleaning tools in one. The crevice tool provides an extended reach for cleaning small spaces and the dusting brush can clean a multitude of surfaces.

 

TruePet Motorized Brush – Specifically designed to pick up pet hair and deep clean various surfaces.
Dusting Brush – Dusts and cleans all types of surfaces.
Upholstery Brush – Perfect for picking up pet hair and lint from your furniture and other upholstered surfaces.
Performance
As we already mentioned in this Shark Rotator review, the TruePet model is designed to dust and clean all types of surfaces while specializing in removing pet hair even from the softest and thickest of area rugs. Let's see how it performs on different types of floors and surfaces in your home: 
Carpets/Upholstery/Cars
The main motorized tool and provided attachments have very stiff bristles, which enable you to quickly clean all types of carpeted surfaces. The different settings (low/high pile) adjust the suction power and the speed of the rotating brush, so you can customize Shark Rotator's performance based on the type of surface you want to clean. The attachment for removing pet hair will keep your furniture thoroughly clean and free of pet hair at all times.  
Hardwood/Smooth Floors
With exceptional suction power and dedicated tools, Shark Rotator is the only tool you'll ever need to keep your hard floors perfectly clean. On bare surfaces, you can either use the main brush or switch to the Hard Floor Genie with a washable microfiber pad. This attachment turns your vacuum cleaner into a high-quality mop similar to Swiffer Sweeper, only more powerful.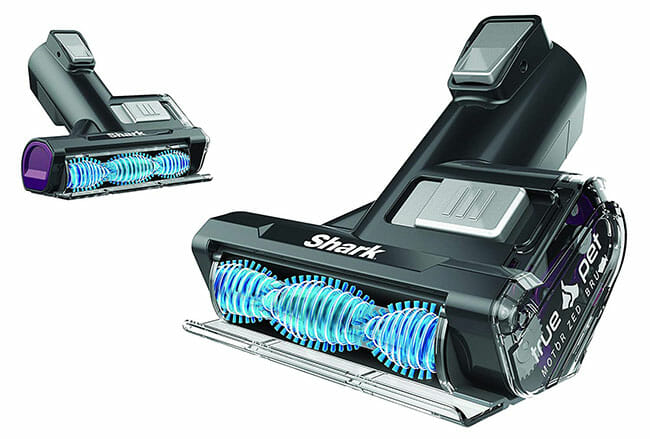 Pricing
The bordeaux version of the Shark Rotator TruePet costs $214.99 while the cinnamon model comes with a price tag of $229.99. This makes it much cheaper than similar Dyson models while providing you with the same level of utility and performance. Shark Rotator comes with a limited non-transferable 7-year warranty against all defects in materials and workmanship. The warranty is activated automatically if you purchase it directly from SharkNinja.  
The warranty doesn't cover normal wear and tear (HEPA filter, foam/felt filters, pads…), units that have been tampered with, incidental and consequential damages, and damage caused by abuse, misuse, mishandling in transit, and negligent handling.   
Does Shark Rotator Live Up To Expectations?
Users who bought this vacuum cleaner are very satisfied with its versatility, seeing that it is basically an upright and a canister vacuum in one. According to reports, it works equally well on all types of surfaces and is very lightweight compared to traditional upright models. Furthermore, it is very easy to control thanks to its flexible swivel head. 
Users especially like all the different attachments that allow them to combine different operating modes with dedicated tools for optimal cleaning. The fingertip controls are a nice added bonus as well. On the other hand, some users complained about this vacuum being on the heavier side and that the swivel feature doesn't feel as smooth as with Dyson.  
Pros
Budget-friendly 
Versatile 
Flexible swivel head for optimal maneuverability 
Numerous attachments and accessories 
Designed for all surfaces 
Detachable canister 
3 nozzle settings 
HEPA filter 
Washable filters 
Removes up to 99% of allergens 
Complete seal technology 
Fingertip controls 
LED lights 
Verdict
As shown in this Shark Rotator review, the TruePet model is a truly well-designed vacuum cleaned and one of the most versatile uprights you can find. It's the only upright vacuum that can also be used as a canister model, which saves a lot of time on shuffling your furniture around and money on buying additional tools.
With all the features and accessories it provides, excellent performance on all surfaces, and its budget-friendly price tag and lifetime warranty, it is truly a perfect choice for pet owners.