Miele Complete C3 Review
Advertiser Disclosure
This website features affiliate links. For purchases made via these links, we earn commissions that allow us to keep producing helpful content. To find out more
click here
.
Close
Miele Complete C3 Cat & Dog PowerLine is a canister vacuum cleaner designed to handle pet hair on all floor types, which is something most regular vacuums have trouble with. It was launched in 2017 by Miele, a renowned German manufacturer, as a part of its flagship Complete C3 Series designed for optimal elegance and functionality. 
Learn more about this impressive model and its capabilities in our detailed Miele Complete C3 review.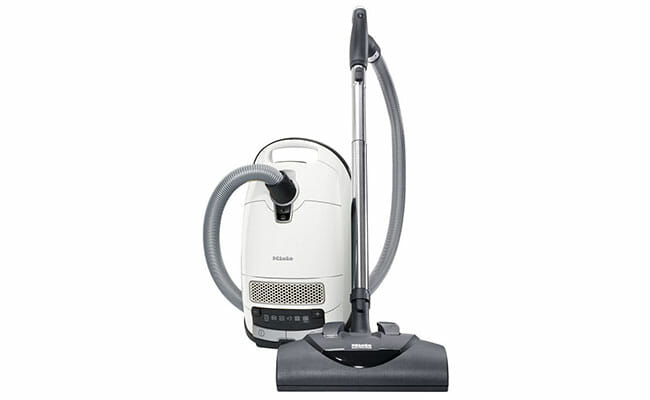 Design & Specifications
Appearance aside, Miele Complete C3 is anything but your regular cylinder vacuum cleaner. It is an ultra-light canister model with a very modern design and pleasing aesthetics. As far as its color scheme is concerned, it only comes in lotus white. Canister vacuum cleaners have some inherent advantages compared to other types of vacuums, including more power, greater ease of use, better maneuverability, more additional tools, and quieter motors.  
On the other hand, note that you will have to bend over more frequently when using it, so it might not be ideal if you have back pains. 
| Weight | Dimensions | Hose Length |
| --- | --- | --- |
| 19.4lb | 19.5" x 11.2" x 8.9" | N/A |
| Cord Length | Cleaning Path | Power |
| 24' | N/A | 1,200W |
| Voltage | Filter | Cord |
| 120 Volts | Active AirClean | Retractable |
| Dust Capacity | Bag | Swiveling head |
| 4.5l | 4.74-quart SelfSeal Dust Bag | No |
| Thermal/Overload Protection | Height Adjustment | Noise Level |
| Yes | Yes | 77dB |
Features
Miele Complete C3 Cat & Dog is a highly specialized canister vacuum cleaner designed to clean pet hair from any surface in your home. Having said that, let's go over some of its main advantages: 
Powerful Motor
Miele Complete C3 Series incorporates a powerful 1,200W motor, which ensures excellent suction capabilities. This makes it ideal even for larger vacuuming tasks. Note that Miele also offers a 900W version of this model. 

6 Speed Settings
A convenient +/- footswitch allows you to adjust the suction power depending on the surface you are cleaning. The current setting is displayed on the illuminated power indicator. 
SEB 228 Electro Plus Power Head
The main floorhead features 5 different height settings designed for specific types of smooth floors and medium-to-high pile carpets.  
3D Bumper
This addition protects your furniture and walls.
SBB300-3 Parquet Twister
Miele Complete C3 comes with an articulating hard floor brush designed for agile and gentle cleaning. 
Retractable Cord
The cord is easily retracted using the Miele "One-Touch Auto Cord Rewind" tech. 
Swivel No-Mar Wheels
With Miele Complete C3, you will have a feeling like it is floating across your floors thanks to the company's proprietary wheels. They will keep the vacuum body from sinking no matter how fluffy your carpets are.  
AirClean Filtration System
Although not a HEPA filter, it still manages to remove up to 99.90% of lung-damaging, allergy-inducing particles.  
Numerous Accessories
Miele Compete C3 comes with two floorheads, an upholstery tool, crevice tool, and dusting brush with horse hair bristles. 
Attachments & Accessories
Miele Complete C3 comes with a 3-piece accessory kit (implemented on the top of the hoover) and two separate floorheads: standard, suitable for all floor types, and TurboTeQ Brush Floor Head, designed to pick up fur from carpets more efficiently. 
Apart from this, it features a mini turbo brush (used for vacuuming upholstery and smaller surfaces like carpeted stairs), crevice nozzle (excellent for edges, corners, and other tight spaces), upholstery nozzle (designed for furniture), and dusting brush (used for finer dusting tasks). Miele also offers a wide variety of optional accessories that can help you get rid of pet hair from your home even more easily.
Performance
As already mentioned in this Miele Complete C3 review, this vacuum cleaner was designed to operate on all surfaces and remove pet hair much more effectively than regular models. Let's see how it performs on different types of floors.  

Carpets/Upholstery/Cars
Miele Complete C3 performs exceptionally well on soft and ultra-plush carpets thanks to its motorized nozzle with multiple height settings, variable motor speeds, and large wheels on the nozzle body that prevent it from sinking into the carpet. 
With that in mind, removing pet hair from your furniture, car interiors, carpeted stairs, drapes, area rugs, and other similar surfaces is just a breeze. Its incredible suction power removes not only fur but also dust, dirt, and allergy-inducing particulates (dust mites, mold, pollen, dust mite feces…).
Hardwood/Smooth Floors
When designed correctly, canister vacuum cleaners are usually the best tools for cleaning smooth and hard floor surfaces. Miele Complete C3 performs pretty admirably on both types of floors. Miele Complete C3 features the Parquet Twister, which provides the head with a 180-degree rotation for agile but gentle care of smooth surfaces in your home. 
Pricing
Miele Complete C3 costs $999.00, which is a fair price for a highly specialized top-quality model. The general warranty period for the Complete C3 Series is 5 years. Vacuum bodies (structural integrity), vacuum motors, and power head motors are warranted for 10 years against any defects in materials and workmanship.  
Does Miele Complete C3 Live Up To Expectations?
Users of Miele Complete C3 are more than satisfied with its modern design and incredible suction power. They say it is excellent at removing pet hair from their homes, including hard-to-reach places. The vacuum offers a significant range and its telescopic stainless steel tube allows users to reach higher surfaces and even access inconvenient corners and other tight spots. On the other hand, Miele Complete C3 is a bagged cylinder vacuum, which means you will have to spend a bit of money on replacement bags.  
Also, some users do not like dragging the body of the vacuum around their homes, which is a common complaint when it comes to canister models. Finally, as we already mentioned in this Miele Complete C3 review, this is not a good model for you if you suffer from chronic back pain. 
Pros
Excellent performance on all types of floors 
Top-level filtration system 
Powerful and quiet motor 
Minimizes odors and allergens in the air 
Modern & lightweight design 
Numerous attachments 
Generous warranty period 
Cons
Expensive 
Short power cord 
No HEPA filter 
Verdict
Miele Complete C3 Cat & Dog is one of the best options out there for pet owners who want to remove fur, unpleasant smells, and dangerous microbes from their homes. The model comes equipped with exceptional suction power, pretty large capacity, two different floorheads, excellent filtration system, lightweight design with adjustable height, and many other advantages that make it stand out from the competition.  
The price might seem a bit steep, but pet owners will find it more than justified once the vacuum starts solving all their pet hair problems in one quick swoop.