bObi Pet Review
Advertiser Disclosure
This website features affiliate links. For purchases made via these links, we earn commissions that allow us to keep producing helpful content. To find out more
click here
.
Close
bObi Pet robotic pet vacuum is a small but capable multitasker that does not only vacuum independently but also mops and disinfects your floors along the way. It is a product of bObsweep Inc., a Toronto-based company that has been creating smart vacuum cleaners since 2008.
Specially designed for pet hair and fur removal, bObi Pet is an advanced, feature-rich solution that promises to keep your bare floors and carpets perfectly clean at all times, with minimum human assistance. Get to know this unique pet vacuum inside and out and determine whether it can truly make your life easier with this thorough bObi Pet review.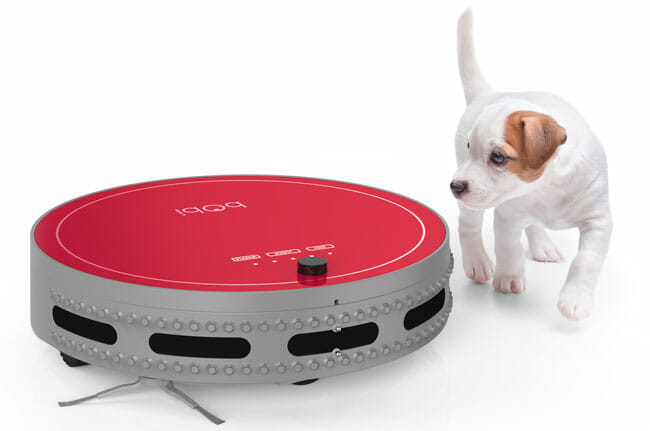 Design & Specifications
Depending on your preferences, you can opt for the scarlet bObi Pet or the silver bObi Pet. Regardless of your color choice, you are likely to be impressed by the luxurious design of the vacuum and the silky TouchMe texture of its surface. bObi Pet's exterior features a glossy finish and it is made of an original silicone formula that looks and feels rather amazing.
In addition to its sophisticated design, this robotic pet vacuum boasts incredible functionality and ease of use, with simple scheduling and switching between work modes in a single tap. The vacuum is round-shaped, compact, sturdy, and RoHS compliant, which means that it is free of hazardous materials.
Weight
Diameter
Height
10 pounds
12.6 inches
3.35 inches
Cleaning Path
Area Coverage
Max Doorsill Crossing
12 inches
1,000 square feet
1 cm
Cord
Bag
Suction Power
Cordless
Bagless
11,500 rpm
Battery Type
Run Time
Full Recharge
14 V 12-cell lithium-ion battery
Up to 90 minutes
4 hours
Auto Charging Station Locator
Speed Mode
Filtration System
Yes
Fast and slow
HEPA filtration
Dust Capacity
Full Dirtbin Indicator
Auto Surface Adjustment
0.35 L
No
Yes
Brushes
Edge & Obstacle Detection
Remote Control
Multi-tier main and side brushes
Yes
Yes
Schedulable Weekly Cleaning Sessions
WiFi Connectivity
Virtual Boundaries
7
No
Yes
Noise Level
Under 60 dB
Features
While it does not come with a dedicated smartphone app and WiFi connectivity, bObi Pet still does extremely well in the feature department. It is cleverly designed and boasts a vast range of useful tools and customization options that make it a reliable personalized cleaning assistant. These are the top 10 features of bObi Pet robotic pet vacuum cleaner.
5-in-1 Functionality
bObi Pet is more than just a vacuum. It performs 5 distinct functions at once. It sweeps the floors, vacuums, mops, filtrates, and eliminates bacteria via UV sterilization. Thus, in addition to eliminating pet hair and fur, it thoroughly cleans your floors, leaving them dirt-and-mud-free, and keeps the floor surfaces in your home and the air you breathe free from allergens, germs, and bacteria.
3 Work Modes
The vacuum features an illuminated touchscreen with 3 buttons, 1 for each of the vacuum's cleaning modes. The 3 modes are known as Go!, Waffle, and Juice. The Go! mode is the work mode in which bObi Pet performs all its cleaning functions. It sweeps and vacuums hair and dirt, mops and sanitizes the floors, and employs HEPA filtration. This is the preferred mode for daily vacuuming of the entire home.
The Waffle mode is used in case of a vacuuming emergency. It instructs the vacuum to target a fresh spill and invest extra effort into dealing with a localized mess. In the Juice mode, bObi Pet is instructed to automatically locate the charging station and plug in to recharge its battery once the battery level reaches 15%.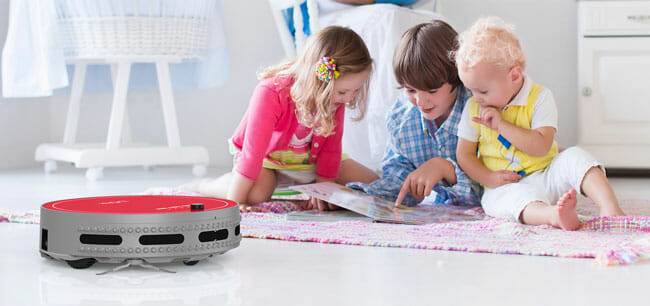 Edge & Obstacle Sensors
bObi Pet uses radio frequency technology and over 80 edge and obstacle sensors located on its front, sides, and bottom. The role of the sensors and RF tech is to prevent the vacuum from falling off edges and bumping into furniture and other obstacles.
bObi blOck
If you want to protect particularly delicate carpets or simply want to keep bObi Pet away from certain parts of your home, you can use bObi blOck to create virtual boundaries and instruct the vacuum to steer clear of forbidden areas.
FullCommand Remote
The FullCommand remote control lets you manually modify the vacuum's movement, switch between work modes, and schedule cleaning sessions.
Scheduling
Speaking of scheduling, you can instruct bObi Pet to self-start on specific days and at a specific time. You can choose any time that suits you and schedule up to 7 cleaning sessions per week.
Multi-Level Brushes
bObi Pet features parallel bristle and rubber brushes that easily lift and remove embedded hair. Furthermore, it comes with a useful side brush that facilitates cleaning in corners and narrow, hard-to-reach spaces.
HEPA Filtration
With its high-efficiency HEPA filter, bObi Pet captures up to 99.98% of particles larger than 0.3 microns, thus eliminating dangerous allergens from your home.
Long Run Time
In comparison to most of its competitors, bObi Pet boasts a significantly longer run time. It can clean for up to 90 minutes straight, with no significant diminishment in performance.
Waterproof Dustbin
Unlike some vacuums that make it hard to remove all the debris from the dustbin, bObi Pet comes with a waterproof, washable dustbin that you can safely submerge in water and thus effortlessly remove all the leftover dirt.
Attachments & Accessories
So far, we have mentioned some of the accessories that come with bObi Pet, but now we will provide a full overview of the tools and attachments that you get with your vacuum. These include the bObi blOck, the FullCommand remote control, 1 mop attachment that comes with micro-fiber mopping cloths, and 1 syncing tool.
Previously in this bObi Pet review, we said that you can use bObi blOck to set virtual boundaries and the FullCommand remote control to remotely program your vacuum. The mop attachment with micro-fiber mopping cloths, which can be used dried and damp, lets bObi Pet remove stains from your hard floors. The syncing tool is used to push and hold the sync button on the back of the charging station in order to synchronize the coding of the station and the vacuum.
Performance
As suggested previously in this bObi Pet review, this little hybrid is designed for floor cleaning. It cannot clean staircases and it is unable to clean upholstery and other above-floor surfaces. However, it is suitable for virtually all common types of flooring, including tile, hardwood, marble, linoleum, and low-pile and high-pile carpets. Keep reading to find out how well it performs on bare floors and different carpet types.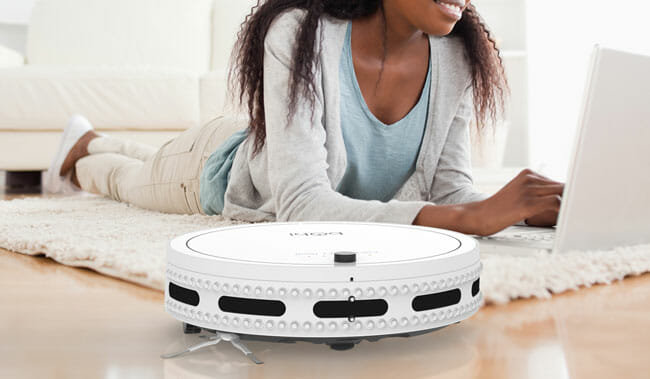 Bare Floors
bObi Pet's performance on bare floors is close to perfect. It provides consistently good results across different types of flooring and its pet hair removal ability is excellent. It may occasionally struggle with larger particles, but after an extra pass, the floor is usually left dirt-free. The mop tool does a great job cleaning bare floors and the vacuum rarely misses a spot, which is far from common in robotic pet vacuums. Its Waffle mode for localized messes has proved to be highly useful as well.
That being said, be sure to set virtual boundaries for areas that feature excessively wet or oily surfaces since the vacuum is not built to work in such conditions.
Low-Pile Carpets
The vacuum performs more than well on low-pile carpets, as its parallel brushes are able to efficiently loosen pet hair and dirt. It may not boast the suction power of a high-performing upright, but since it can be programmed to vacuum daily, this should not be a major issue, as frequent vacuuming prevents hair and dirt from getting inextricably entangled with carpet fibers.
However, keep in mind that if your low-pile carpet features tassels, bObi Pet may get stuck when transitioning from carpets to bare floors and vice versa.
High-Pile Carpets
In comparison to low-pile carpets, bObi Pet's performance on high-pile carpets is significantly less impressive. This is where suction power is of the greatest importance and you should not expect bObi Pet or virtually any other robotic vacuum to perform as well as a mighty upright pet vacuum.
If you have high-pile carpets, you can use bObi Pet to remove hair and dirt from the surface, but the vacuum cannot provide a deep clean and it may get stuck if the pile is too high.
Pricing
Currently, you can get bObi Pet for just $299.99. The shipping costs amount to $12.49. Included in the package are your intelligent bObi Pet vacuum cleaner, 1 charging station, 1 charging adaptor, 2 main brushes (1 installed, 1 spare), 2 side brushes (1 installed, 1 spare), 1 bObi blOck, 1 remote control, 1 cleaning tool, 1 mop attachment, 2 micro-fiber mopping cloths, 1 filter replacement, 1 Phillips head screwdriver, 1 syncing tool, 1 owner's manual, 1 quick-start guide, 1 warranty card, and extra screws, blindfold stickers, and main brush holders.
The vacuum comes with a lifetime of oft-praised after-sale support, a 1-year limited warranty that covers defects and malfunctions that are not caused by improper use or maintenance, and 5 years of subsidized repairs, with the manufacturer covering at least 25% of repair cost.
Since bObi Pet is sold through Amazon, it is covered by Amazon's 30-day money-back guarantee. If you are not happy with your bObi Pet, you can return it in the original condition and packaging within 30 days after the date of delivery and receive a full refund.
Does bObi Pet Live Up To Expectations?
bObi Pet robotic pet vacuum is a popular and well-loved vacuuming solution. It has high user ratings across the web, ranging from 4 to 5 stars. Most users are highly satisfied with the device and claim that it has made their lives much easier. Complaints about its hair removal efficiency are extremely rare and the majority of users agree that it does an excellent job cleaning their floors.
The most common praises are related to its strong suction, efficiency, thoroughness, durability, attractive design, ease of use, ease of cleaning and maintenance, and long run time. Users frequently state that the company's customer support is top-notch.
The most common complaints concern navigation problems and the vacuum's inability to detect all obstacles (particularly black ones), which may cause it to get stuck from time to time. A number of users have pointed out that the vacuum frequently has troubles locating the charging station, which normally stems from syncing issues.
To sum up, users generally agree that bObi Pet efficiently removes pet hair and excels at cleaning floors. Still, if you opt for this vacuum, you should be ready to deal with some navigation problems and charge it manually instead of relying on the auto charging station locator.
Pros
Luxurious design
Sweeps, vacuums, mops, and UV sterilizes floors
3 cleaning modes
Edge and obstacle sensors
Virtual boundaries
Remote control
Scheduled cleaning sessions
Multi-level brushes
HEPA filtration
Up to 90 minutes of run time
Waterproof, washable dustbin
Quiet operation
Fast and slow modes
Auto surface adjustment
Lifetime after-purchase support
1-year limited warranty
5-years of subsidized repair
30-day money-back guarantee
Cons
Troubles locating the charging station
Navigation issues
No WiFi connectivity
Relatively poor performance on high-pile carpets
Verdict
To sum up everything we said in this bObi Pet review, this small and efficient robotic pet vacuum is rather powerful, features great ease of use, and boasts excellent performance on bare floors and low-pile carpets. It easily removes pet hair and dirt, as long as it is not faced with a high-pile carpet. It is feature-rich and easy to program and offers plenty of customization options. Its navigation abilities are not impressive, but this is quite common among robotic pet vacuum and we will thus not count it as a major flaw.
If you have large bare floors and low-pile carpets that could benefit from daily sweeping, vacuuming, mopping, and disinfection, bObi Pet can be a great solution for keeping your home clean without much effort.