As a pet parent, you may have noticed that regular vacuums perform poorly when it comes to pet hair elimination. That is because they do not possess the suction power and tools necessary to lift and remove the fine hair that gets stuck in upholstery, carpets, crevices, and basically, all corners of your home.
If you have decided to get a pet vacuum but find the number of factors to consider overwhelming, this simple pet vacuum cleaner buying guide can help you easily identify the best pet vacuum for your needs without forcing you to learn how to decipher pet vacuum specifications.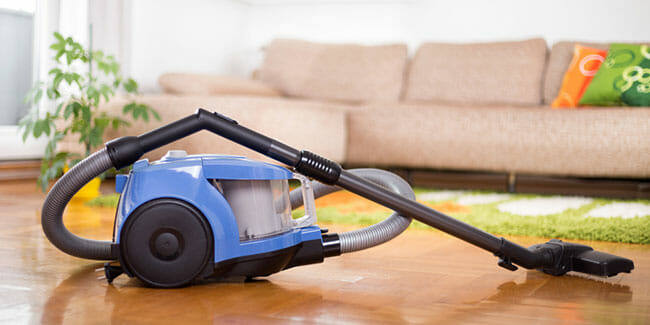 Large House Or Dorm Room
The kind of pet vacuum you need to get highly depends on the size of your home. If your home is spacious, with large floors that need frequent vacuuming, an upright with a high-capacity dirt cup is the way to go. They often have wide cleaning paths, they do not force you to bend while vacuuming, and high dust capacity means that you do not have to empty the cup that often.
On the other hand, if you live in a door room, a small 1-bedroom apartment or simply do not have large stretches of floor to clean and do not have much storage space, you can do just fine with a handheld vacuum (best for dorm rooms), a stick vacuum or a compact canister vacuum cleaner.
Stairs Or No Stairs
Vacuuming stairs can be exhausting if you do not have the right pet vacuum cleaner – a lightweight model with a long hose, preferably an extension wand, and specialized tools that facilitate stair vacuuming, such as turbo nozzles. It is also important to pay attention to the cord. It is easier to vacuum stairs with a cordless, lightweight vacuum, but you can do it just as effortlessly with a vacuum that features a long cord.
In terms of pet vacuum type, you can opt for a stick pet vacuum or a canister pet vacuum or even an upright with the right features. Some cordless upright pet vacuums like the highly praised Bissell Powerglide come with a lift-away canister that helps increase the lightness of the vacuum and makes vacuuming stairs a piece of cake.
Carpets Or No Carpets
If you have no carpets in your home, be sure to pick a pet vacuum with strong suction and a brush roll on/off switch or with no brush roll at all. Brush rolls can damage your floors and scatter dust, dirt, and hair all over the place, increasing the time it takes to finish vacuuming. One useful bare-floor feature found in the likes of the handy Bissell Powerlifter is scatter-free technology that minimizes scatter on hard floors.
Conversely, if you have one or several carpets, a mighty brush roll is an absolute necessity. High-rated pet vacuums often feature special brush rolls designed to loosen, lift, and remove pet hair embedded in carpets.
High-Pile Or Low-Pile Carpets
Not all pet vacuums are designed for all types of carpets. Some of them perform great on low-pile carpets but cannot provide a deep clean on shag rugs. If you own high-pile carpets or have several carpets of different pile height, it is wise to pick a pet vacuum with multi-level height adjustment. Powerful uprights like Hoover WindTunnel 3 Pro boast great suction power and allow you to choose from 5 height adjustment settings, thus providing a deep clean on carpets of all depths.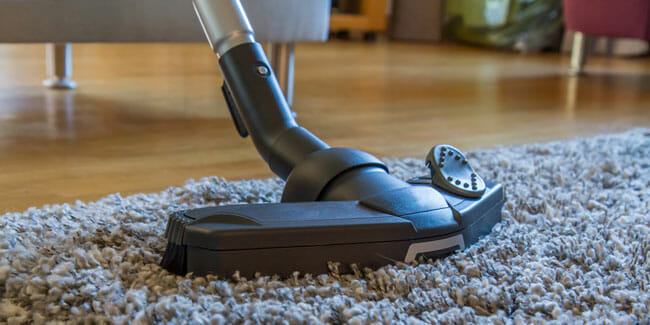 Single-Pet Or Multi-Pet Household
The number of pets in your home determines how often you need to vacuum. If you have multiple pets, it is highly likely that you need to vacuum every other day, so the best fit for your home is a vacuum with a large dirt cup.
However, dust capacity is not the only feature you should pay attention to. It is also important to choose a pet vacuum with an easy-empty, preferably bottom-release dirt cup that is easy to remove and reattach and that can be emptied with a push of a button.
Allergies Or No Allergies
A good filtration system is always an important feature, but it is particularly necessary if your pets are not hypoallergenic and members of your home suffer from pet allergies. In any case, we suggest opting for a pet vacuum with multilevel filtration. If you have allergy issues, be sure to pick a vacuum with a HEPA filter or a high-efficiency allergen filter like the one found in Eureka Airspeed Unlimited.
Pets On The Couch Or No Pets On The Couch
If your pets like to snuggle next to you on the couch, pet hair is sure to get stuck in the upholstery. Even if your pets spend no time on the bed, sofa or armchairs, they may leave hair on the sides of the furniture. That is why the best pet vacuums come with special attachments particularly designed for upholstery vacuuming.
While one on-board upholstery tool can be enough, some pet vacuums like Bissell Powerlifter come with 2 or more upholstery tools that may feature rotating rubber flaps that agitate pet hair on upholstery or velvet strips that lift and remove deep-embedded hair.
Pets In The Car Or No Pets In The Car
If you struggle with pet hair in the car, your best choice is a handheld pet vacuum cleaner. Handheld pet vacuums are comfortable to use and particularly convenient for cleaning car interiors. However, in terms of suction power, they are often inferior to other pet vacuum types, so you may want to get a handy stick vacuum or an upright vacuum with a lift-away canister to ensure a deeper clean.
Outdoorsy Or Indoorsy Pets
Pet hair is not the only kind of mess pets can leave behind, especially if they spend a lot of time outdoors. Mud is often an issue and it cannot be completely cleaned by vacuuming. That is why some manufacturers produce hybrids that function both as vacuums and steam mops, such as Bissell Symphony. These 2-in-1 solutions are not only budget-friendly but also time-saving. However, they mostly work on bare floors.
Bottom Line
The most important factors to keep in mind when choosing the right pet vacuum cleaner include the size and layout of your home, the presence or absence of carpets of different pile heights, the number of pets you have, potential allergy issues, problems with pet hair on upholstery and in car interiors, and the outdoor activity habits of your pets. We hope that our concrete recommendations have helped you determine what kind of pet vacuum you should get based on your needs.