With more and more households in the US switching to canister vacuums to clean after their pets, it is important to examine their advantages and shortcomings in contrast to traditional uprights. While choosing the best pet vacuum cleaner for your needs depends on many factors, such as the size of your home, the number of pets in your household, and your budget, getting more information about both types can help you make a fully informed choice and save a lot of money and effort along the way.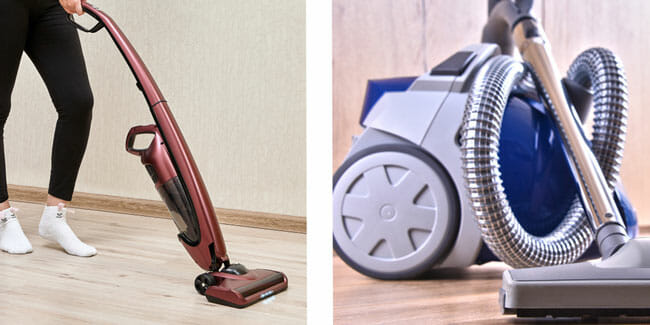 Upright Vacuum Cleaners
Upright vacuums feature a popular design with the motor and the floorhead placed in the same unit, which you have to push in front of you to vacuum your home. With that said, let us take a look at the most important benefits and drawbacks of these models:
PROs:
Upright vacuum cleaners feature motorized brushes, which ensure much better performance on thick carpets and rugs. Thus, if you have large carpeted areas in your home, uprights are the ideal choice for you.
Uprights are much easier to use and store since all of the components are packed inside a single housing. Since you will be pushing the vacuum in front of you the whole time, the chance of tripping is minimal as well.
Bagged models usually feature larger bags (around 4l), which require less frequent changing.
Top-tier uprights like Eureka Airspeed Unlimited also feature an additional hose for greater versatility.
Uprights usually have a wider cleaning path and you can control the transition between carpets and bare floors with your foot.
CONs:
The unibody design of upright vacuum cleaners provides poor sound insulation, so they are louder than canister vacuums.
Uprights are much heavier (up to 20lb) and more difficult to maneuver and carry around, especially if you have a lot of stairs and tight spaces in your home.
Their effectiveness drops significantly when cleaning corners and other hard-to-reach places (notably, areas under the furniture). However, if the model comes with a hose, this problem will be mitigated to a degree.
With uprights, the cord is usually non-retractable.
Canister Vacuum Cleaners
Canister vacuum cleaners have the cleaning nozzle placed at the end of a (telescopic) wand, which is linked to the main unit with a flexible hose. The main unit (or "canister") holds the motor, vacuum filter, and dust bags and features wheels for better mobility. Here are some of the most important pros and cons of canister vacuum cleaners: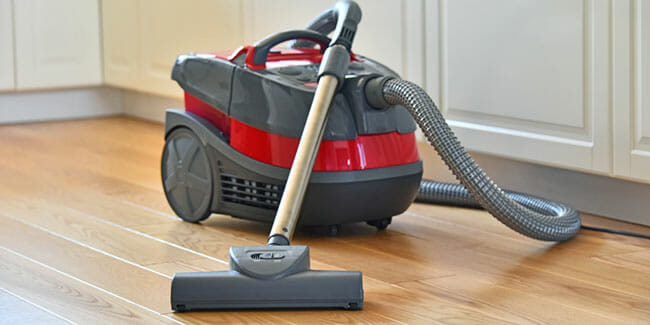 PROs:
Canister vacuums like Dyson DC39 are usually more powerful than uprights since their design does not impose any limitations regarding the size of the motor unit. This means they provide you with better suction and flow rate, which makes them a much better option for bare floors.
These units are easier to maneuver and can clean stairs and other tight and hard-to-reach places without any difficulties. This includes areas behind or under the furniture as well as drapes, upholstery, and blinds.
Canister vacuums offer much more room for good sound insulation, so these models are also quieter than their upright counterparts.
Canister vacuums also come with a variety of different accessories, including upholstery brushes, crevice nozzles, mechanized brushes for carpets and rugs, and many others. These add-ons are usually stored directly on the wand or on the canister itself.
Most models feature a retracting power cord.
CONs:
Canister vacuums usually require some assembly, so they cannot exactly be used right out of the box.
With canisters, the wand and the hose make these appliances rather challenging to store and you may have to disassemble your unit to fit inside smaller closets.
Some users simply do not like dragging the canister behind them. They can damage your walls or furniture and if the wheels are too small, they can get stuck on thick carpets and power cords.
The biggest disadvantage of canister vacuum cleaners, however, is the fact that you have to bend over much more often than with traditional uprights. This is a huge problem for the elderly or individuals with chronic back pain. Some models mitigate this issue by implementing the controls on the wand or making the canister buttons big enough to press with your feet.
Bottom Line
As indicated, both uprights and canister vacuums have their advantages and disadvantages and the optimal choice entirely depends on your personal needs, circumstances, number of pets, and home layout.
If your home has large carpeted areas, limited storage space, and does not feature a lot of stairs, traditional uprights are perfect for you. They are also excellent if you do not have to go through a lot of tight and hard-to-reach places and if you suffer from any form of back pain.
On the other hand, if you need a true beast of a vacuum cleaner that will remove all pet hair from smooth surfaces and reach all the tight corners and crevices in your home, canister vacuums are the way to go. They are also ideal if you live in an apartment and do not want to alert the entire building every time you are vacuuming your place.