Having pets inevitably leads to more frequent vacuuming due to pet hair buildup. As a pet owner, you probably already know that if you want your home to be hair-free, you need to vacuum daily. However, most people do not have the time to vacuum every single day, which is why this general, once-per-day recommendation is not exactly helpful. That is why we will try to offer genuinely useful advice to many pet owners who wonder how often is often enough.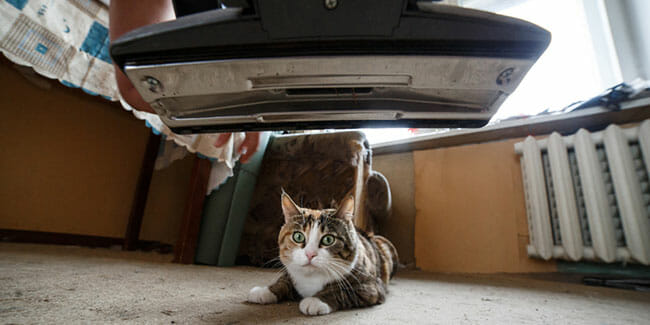 Spring & Fall
You may have noticed that in spring and fall, there is more pet hair on your furniture, carpets, floors, and clothes, especially if you have double-coated dogs in your home. This is the result of seasonal shedding, which is perfectly normal but annoying if you are the one in charge of vacuuming.
Unfortunately, there is not much you can do about it apart from brushing your pets regularly and vacuuming every other day. Vacuuming 2 times a week during spring and fall is fine as well if you have just 1 or 2 pets.
Summer & Winter
During summer and winter, shedding is not as intense and you can do fine with one vacuuming session per week. However, if you have more than 2 pets, you may find it necessary to vacuum twice a week. Vacuuming is a chore performed as needed, so the optimal frequency does vary from household to household. Still, vacuuming once a week is absolutely necessary.
Outdoor Activities
If you and your furry friends have been having fun in the great outdoors, it is more than wise to vacuum within a couple of hours after you return from your adventure. It does not matter whether you have vacuumed before you left the house. Fleas and ticks are persistent critters that easily adjust to different surroundings and they are often easy to miss. By vacuuming after spending time in the outdoors, you minimize the chance of these potentially harmful biters remaining in your home and endangering the well-being of both the four-legged and two-legged members of your family.
Bonus Tip
Even though you know you should vacuum as often as you can, you are unlikely to increase the frequency of your vacuuming sessions if you do not have the right tools. By getting the best pet vacuum for your needs, you are doing yourself a big favor.
Not only does the right pet vacuum allow you to clean more efficiently, but it makes vacuuming less of a chore. A lightweight, easily maneuverable pet vacuum with powerful suction and an easy-empty dirt cup, like Bissell Powerglide, is sure to encourage you to vacuum more often simply because it minimizes the effort required.
Bottom Line
While it is not necessary to vacuum every day, vacuuming every week is an absolute must, regardless of the season. Twice a week is optimal – unless you are dealing with seasonal shedding, in which case 3 times per week or every other day is the recommended frequency. Plus, it is smart to vacuum after spending time outdoors, due to tick and flea issues. Having the right pet vacuum can be of huge help since it makes vacuuming easier and quicker, which in turn allows you to vacuum more frequently without disrupting your already busy schedule.